Logitech today announced the Logitech® G27 Racing Wheel. Designed to deliver the definitive sim racing experience for the PC and PLAYSTATION®3, the G27 features a powerful, dual-motor force feedback mechanism that smoothly and accurately delivers high-fidelity force effects to the hand-stitched leather wheel, so you can feel traction loss, weight shift, and the surface of the road.
The helical gears deliver exceptionally quiet steering action, virtually eliminating noise and unwanted vibration. A six-speed gated shifter lets you choose exactly the right gear for the turn, while new RPM/shift indicator LEDs let you know just when to up- or down-shift. And the clutch pedal makes heel-and-toe downshifting possible, keeping your gear changes quick and your RPMs high all the way around the track.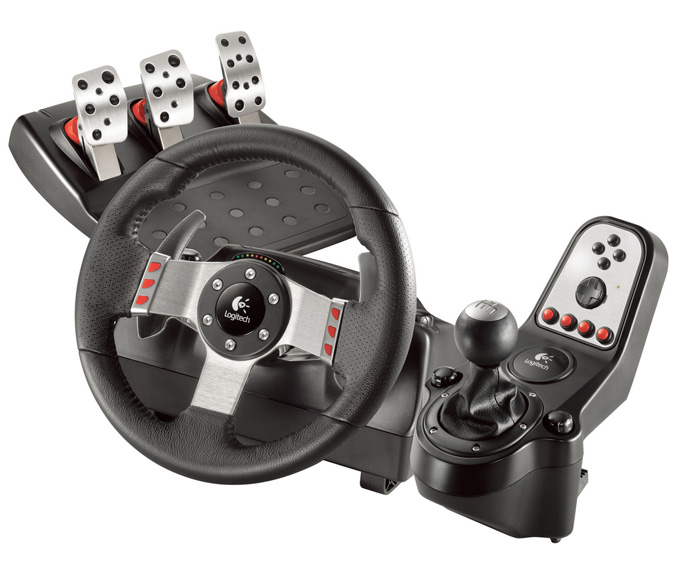 "As with the G25, the G27 features a dual-motor, single-reduction force feedback transmission supported by two sets of steel ball bearings. Instead of straight-cut (or "spur") gears, however, we've developed the first force-feedback transmission for racing wheels featuring diagonal-cut ("helical") gears. As most racing fans know, spur gears produce significantly more noise than helical gears. This is due to vibration that is created as the teeth engage and disengage quickly. Helical gears mesh much more gradually, reducing the amount of vibration experienced by each tooth and significantly reducing the noise generated. This requires that the gear and pinion system be engineered to significantly higher tolerances than a standard spur gear setup, and it results in a wheel that produces the same amount of force feedback torque as the G25 with a significant reduction in noise and improvement in turning smoothness as well.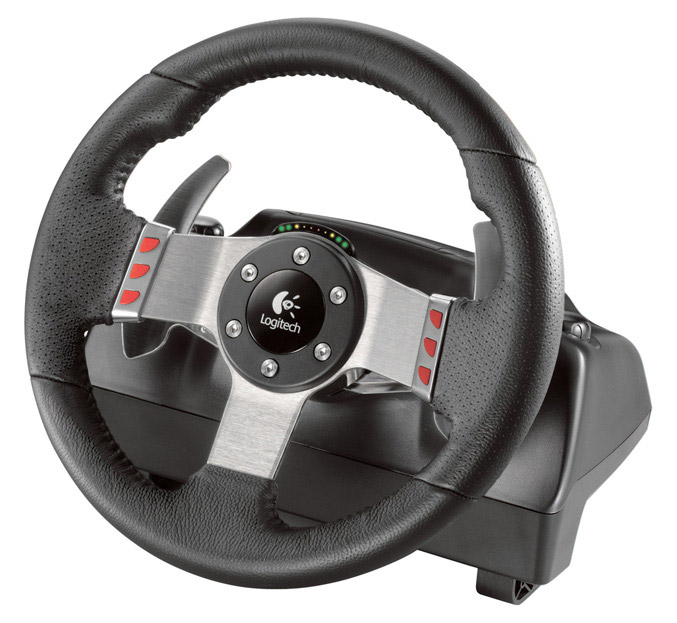 The wheel of the G27 is 11" in diameter and is wrapped in real leather. Its spokes are made of brushed stainless steel, and it features six buttons and two stainless steel shifter paddles. The wheel also features ten LEDs just above the center hub (two red, four yellow, and four green). These LEDs can be programmed by games to act as an RPM gauge or as shift indicators. The LED SDK has been provided to several developers already, and a few titles (including the trial version of rFactor that ships with the wheel) will support the LED panel as soon as the wheel is installed.
The Logitech G27 Racing Wheel is expected to be available in the U.S. and Europe in September for a suggested retail price of $299.99 (U.S.).
Source: Logitech, Logitech Blog