MSI, leading brand manufacturer of motherboards and graphics cards, launched their latest R4890-T2D1G graphics card powered by 55 nanometer core and 800 stream processors coupled with 1GB of GDDR5 124.8 GB/s ultra-high bandwidth memory supporting DirectX 10.1 and OpenGL 3.0.
Now gamers can experience superior performance with the most realistic special effects ever, all in life-like high definition. If you are in for best possible performance, the CrossFireX technology for multi-GPU operations will help you push your visual experience to the utmost maximum. In addition, the integrated UVD 2.0 hardware decoding technology makes sure that high definition audio and video playback will always be smooth and crisp. High Performance, High Efficiency and High image quality are the three focus strengths of the MSI R4890-T2D1G.
High Performance – ultra-high bandwidth 1GB GDDR5 memory , smoothest playback of special effects in high definition
As modern games become more and more complex and rich in details the amount of data is increasing accordingly, therefore it is essential that a graphics card can supply sufficient bandwidth to cope with these massive data. The MSI R4890-T2D1G utilizes 256 bits GDDR5 memory with a whooping 124.8GB/s of bandwidth, effective doubling the bandwidth of equally pulsed DDR3 memory. With this power even the most complex scenes and objects will be processed without a stutter. With 1GB onboard memory high resolution game scenes are rendered at easy to deliver the most immersive atmosphere possible, letting the gamer step right into the action.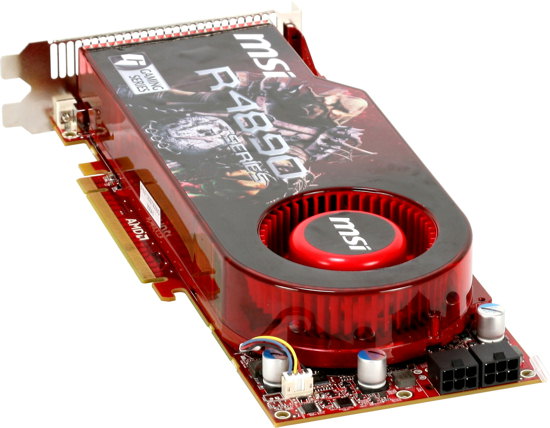 High Efficiency – third generation 55 nanometer core, dynamic frequency adjustment for power savings
Using the third generation 55 nanometer graphics core and through an entirely new production process, the MSI R4890-T2D1G can dramatically reduce power consumption while at the same time increase efficiency. At the same time the dynamic power management allows for adjusting the core frequency according to the effective work load. In 3D mode the core frequency will run at the standard operating frequency to provide high-performance, while in less stressful 2D mode the core frequency will be reduced in order to save energy and also reduce heat dissipation of the chipset itself.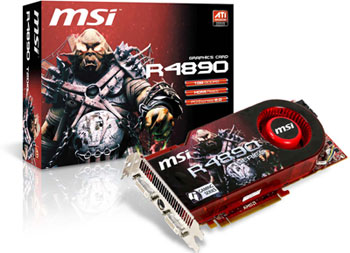 High Definition – support for UVD 2.0 hardware decoding technology, most convenient HD movie playback
The MSI R4890-T2D1G is equipped with the advanced UVD 2.0 video core and has a built-in HDCP key encryption supporting full Blu-ray movie disc playback and 100% hardware acceleration for MPEG-2/VC-1/H.264 movies, reducing the burden on the CPU. UVD 2.0 can even decode two movies at a time when running in picture-in-picture mode. Furthermore, audio and video output can be bundled in one single HDMI connector, even supporting 7.1-channel surround sound.
High Performance, High Efficiency, High image quality – the MSI R4890-T2D1G is the best choice when it comes to high-end graphics cards
The MSI R4890-T2D1G is equipped with 800 stream processors and 1GB DDR5 memory with ultra-high bandwidth, providing for powerful gaming performance. The 55 nanometer core and the dynamic power management enable a most efficient power usage. With the support for UVD 2.0 hardware decoding your HD movie playback won't be delayed anymore. For the demanding gamer looking for a high-end graphics solution there is no way around the high performance, high efficiency and high image quality of the MSI R4890-T2D1G.
Source: MSI