The PSP-3000 models is getting four newish colors- Vibrant Blue," "Radiant Red," "Bright Yellow" and "Spirited Green," in Japan in March 2009
Tokyo, January 26, 2009 – Sony Computer Entertainment Japan (SCEJ), a division of Sony Computer Entertainment Inc. responsible for business operations in Japan, today announced that it would introduce four new colors for its PSP® (PlayStation®Portable) handheld entertainment system, namely "Vibrant Blue," "Radiant Red," "Bright Yellow" and "Spirited Green," in Japan in March 2009. PSP in "Vibrant Blue" and "Radiant Red" will become available on March 5th, 2009, and "Bright Yellow" and "Spirited Green" on March 19th, 2009, all at a recommended retail price (RRP) of 19,800 yen (including tax).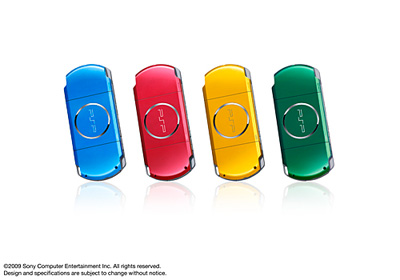 Launched in October 2008, PSP-3000 has gained enthusiastic support from users worldwide for its advanced high contrast LCD and built-in microphone. One of the greatest advantages of PSP-3000 is to display images in more natural and vibrant colors, which is also expressed in the four "CARNIVAL COLORS" of "Vibrant Blue," "Radiant Red," "Bright Yellow" and "Spirited Green."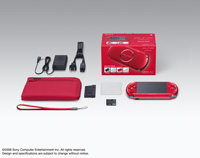 Concurrently with the release of these new color variations, "PSP CARNIVAL COLORS Value Pack," comprising a PSP in newly introduced color and highly popular accessories including a 4GB Memory Stick PRO Duo™ (Mark2), an original PSP pouch, a wrist strap and a cloth, will become available in the Japanese market at a RRP of 24,800 yen. Additionally, "Battery Pack (2200mAh)," comprising a battery pack (2200mAh) and a battery cover in newly introduced color as well as "PSP Pouch" in four "CARNIVAL COLORS" will also become available for Japan at a RRP of 5,500 yen and 1,800 yen respectively on the same day. This extremely attractive "PSP CARNIVAL COLORS Value Pack" and "Battery Pack (2200mAh)" are offered for limited quantities.

With the introduction of the four new "CARNIVAL COLORS" in addition to the popular three basic colors of "Piano Black," "Pearl White" and "Mystic Silver," users will be able to choose from a wider selection to match their lifestyles and preferences and enjoy interactive entertainment anytime, anywhere on the PSP system. PSP users are also able to enjoy enhanced network services by connecting their PSP directly to PlayStation®Store for downloading entertainment content, or by accessing "adhoc Party for PlayStation®Portable" beta service, both launched in fall of 2008, and expanding services continuously. More and more exciting new software titles for PSP will become available for the coming spring from third party developers and publishers as well as from SCE Worldwide Studios (SCE WWS), including DYNASTY WARRIORS: Strikeforce by KOEI Co., Ltd., MOBILESUIT GUNDAM SENJYOU NO KIZUNA PORTABLE by NAMCO BANDAI Games Inc. as well as SCE WWS titles including ENKAKU SOUSA -23days for the "Truth"-, RESISTANCE -Retribution-, Saru GetYou Piposaru senki and Diamond and The sound of Gun shot.