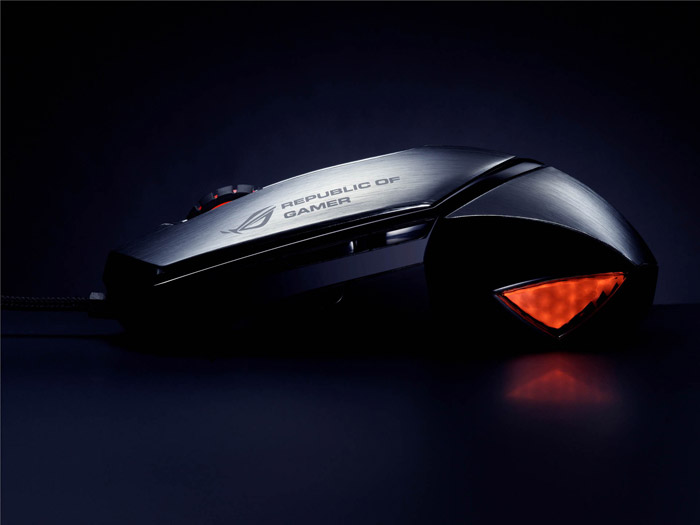 ASUS has launched a new gaming mouse – the ROG GX1000. The new gaming mouse comes with impressive hardware inside and very high precision sensors, making it a dream for any gamer out there.
Here's a quick specs list – the wired ROG GX1000 is a laser mouse with a sensor that offers 50 dpi – 8200 dpi of sensitivity. The mouse measures 128 mm x 65.5 mm x 43.5 mm and weighs between 150 grams and 175 grams. It also supports the following operating systems – Windows XP, Windows Vista, Windows 7 and of course Windows 8.
In addition the ROG GX1000 laser gaming mouse ships with high precision sensors capable of up to 8200 dpi and PTFE feet for effortless surface grip, giving gamers instant response capabilities with every move. Its ergonomic design further offers optimal hand comfort to eliminate fatigue and increase accuracy even after long hours of gaming. Quick-access customizable dpi switching and indication plus six programmable macros cater to games of all genres, and the trademark ROG logo emblazoned on the mouse maintains stylish consistency with other ROG products. The GX1000 truly showcases those who wield it as belonging to an elite group of gamers.
The GX1000 offers unrivaled precision customization – the mouse uses PTFE feet to literally glide across nearly all surfaces, while adjustable click-in weights allow gamers to tune mouse heft to their gaming style. Four levels of dpi switching and LED indicators (red, orange, green, black) give customers the ability to instantaneously switch and verify mouse resolutions from 50 dpi to an impressive 8200 dpi. Six programmable macros and special gaming features such as response speed settings can be easily accessed and customized from within the intuitive user interface, helping gamers set up profile preferences with just a few clicks. The GX1000 comes bundled with its very own custom high quality ROG mouse pad, presenting a genuine top-tier gaming mouse designed to meet the demands of even the most dedicated PC enthusiasts. Finally the ROG logo on the mouse lights up in four colors, which can be defined by users and assigned to different profiles.
Pricing of the new gaming mouse is a mystery at the moment.
Source: ASUS