EVGA launches two GeForce GTX 465 cards

EVGA also jumps on Fermi bandwagon with two own GTX 465 cards – standard and SuperClocked version. The normal version coasts $279.99, while the GTX 465 SuperClocked will coast you $299.99.
The more interesting of the two cars is SuperClocked version, which has 625 MHz GPU (607 MHz GPU for standart), memory clock at 3240 MHz and shader clock at 1250MHz, for other spec and features check GeForce GTX 465 specs.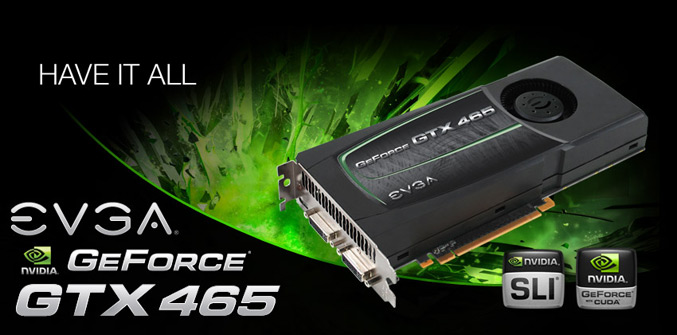 Key features of EVGA GTX 465:
Microsoft DirectX11 Support
NVIDIA CUDA Technology with CUDA™ C/C++, DirectCompute 5.0 and OpenCL Support
NVIDIA PhysX Technology
NVIDIA PureVideo HD Technology
NVIDIA 2-way and 3-way SLI ready
NVIDIA 3D Vision Surround Ready
PCI Express 2.0 Support
Two Dual-Link HDCP DVI-I Connectors
One Mini-HDMI 1.3a connector
OpenGL 3.2 Support