Electronic Arts announced that a free-to-play soccer game from the most popular franchise for hundreds of thousands of soccer fans is now available on the social network of Facebook, and just in time for the 2010 FIFA World Cup. Entitled EA SPORTS FIFA Superstars, the game is developed by Playfish and will also be available on multiple social networks in the near future.
Vice President of Soccer at EA SPORTS, Matt Bilbey, said that they are leveraging their soccer expertise with the experience of their partners at Playfish in order to create a casual soccer game for a broader audience. He also said that The EA Sports FIFA franchise has sold over 90 million units lifetime and FIFA Soccer 10 is the highest rated sports videogame on the Sony PlayStation 3 and Xbox 360 video gaming consoles in the world. Matt Bilbey continued by saying that soccer fans have a voracious appetite for their sport, so they are creating interactive soccer entertainment in new ways and on new platforms to meet the interest, and that they are very excited to broaden their reach from the console that touches their core audience of ten to twenty million fans to the hundreds of millions of soccer fans and casual gamers on the social networks.
The announced EA SPORTS FIFA Superstars is the first sports game and first social game developed by the partnership between EA and Playfish.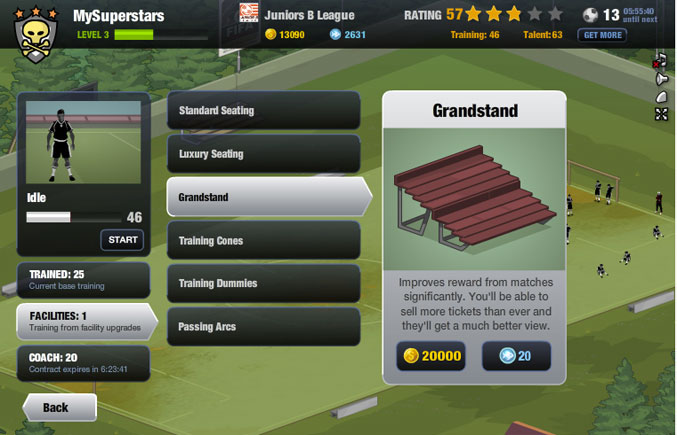 Vice President and General Manager of Playfish, Kristian Segerstale, said that on the eve of the 2010 FIFA World Cup, they are introducing into social gaming an entirely new category and game play style built around the most popular sports franchise in the world. He also stated that EA SPORTS FIFA Superstars captures all the magic and passion of the beautiful game, enabling players to build and manage a team of the world's greatest soccer players and compete against their friends. Segerstale also explained that they are looking forward to working with their players and evolving the game in many exciting ways through the FIFA World Cup and beyond.
FIFA Superstars comes with soccer licenses from EA SPORTS for thirty leagues, five-hundred teams and fifteen thousand players. Players will be able to challenge their friends in a head-to-head match and also compete in leagues. They will also be able to compete against the best by finding them in the leaderboards. Players can also predict the outcomes of the game in the 2010 FIFA World Cup in order to try and win valuable coins for the game.