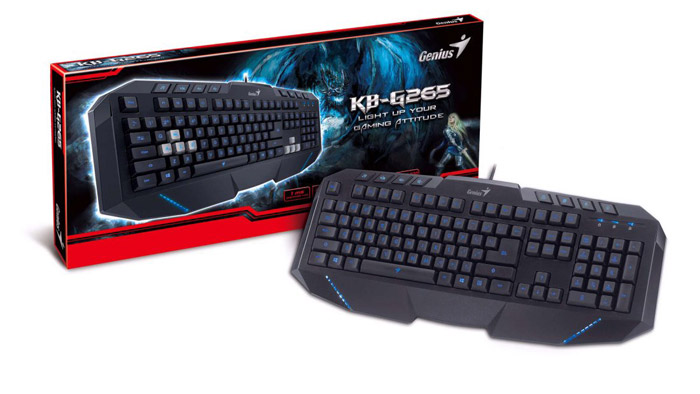 Genius, a worldwide leader in PC peripherals, has officially launched the KB-G265 gaming keyboard. The new company product succeeds the already launched KB-G255 and is a nice gaming keyboard for gamers who do not want to spend too much on gaming peripherals.
Feature-wise the Genius KB-G265 comes with blue LED backlit keys, 8 macro keys, 20 anti-ghost keys and a 1000 Hz polling rate. All colored in black, the KB-G265's LED backlit keys can be turned off if need arises but if you do you will deprive yourself of easy access to multimedia features. The 20 anti-ghost keys ensure that gamers will not worry whether or not the game will register a key if multiple keys are pressed simultaneously. The 1000 Hz polling rate also helps for gaming especially when compared to standard keyboards with 125 Hz of polling rate.
The Genius KB-G265 also comes with clutter-free design. The cable of the keyboard can be positioned left or right thanks to integrated keyboard recesses. In addition it has 8 silver key caps so that important keys can be visible. The Windows key can also be deactivated during gaming sessions.
The new Genius gaming keyboard is now available in the USA where it sells for USD 39.99.
Source: Genius