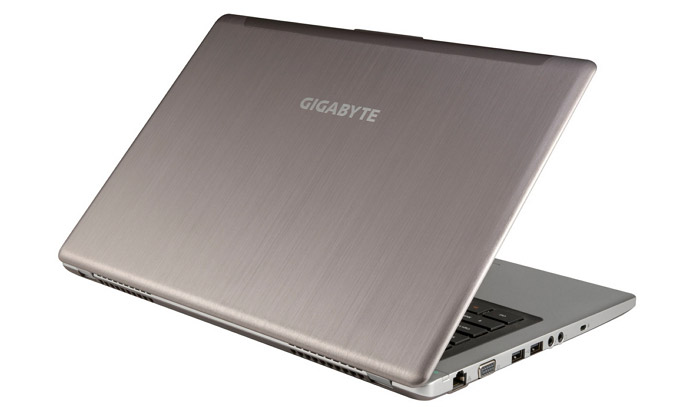 Gigabyte has a new version of its U2442DT gaming ultrabook that now features several upgraded hardware components.
First unveiled in March 2012 the U2442DT was a fine piece of hardware in itself but Gigabyte felt it simply was not powerful enough so the company has updated the hardware that was not delivering the level of performance Gigabyte wanted.
The new version of the U2442DT now features an NVIDIA Kepler graphics card – GeForce GT 730M with 2 GB of VRAM and 96 stream processors – and a 14-inch touch screen that works at 1600 x 900 pixels. It includes an Intel Core i5 or Core i7 Ivy Bridge processor, up to 8 GB of RAM, a 128 GB SSD drive (or an optional 1 TB hard drive and a 256 GB SSD).
Other specs include Gigabit Ethernet, Wi-Fi 802.11n, Bluetooth 4.0, a built-in web camera, a card reader, two USB 3.0 ports, HDMI and D-Sub outputs and finally a LED keyboard. The Gigabyte U2442DT ultrabook also supports NVIDIA Optimus technology that switches between the built-in Intel HD 4000 graphics and the discrete graphics card to save power. The entire machine weighs 1.6 kilograms.
The U2442DT starts at USD 1100 and up but Gigabyte failed to mention the actual release date.
Source: Nextpowerup.com