Razer adds a new weapon of choice for MMO gamers, which share the same successful design philosophy as their best-selling MMO Gaming Mouse, the Razer Naga.
Razer says that Anansi keyboard is designed and engineered especially for the MMO gamers and feature over 100 fully programmable Hyperesponse keys, plus five additional gaming keys, on-the-fly macro recording, optimized key matrix for minimized ghosting, seven thumb modifier keys located below the space bar, to allow gamers to actuate every possible combination of modifier keys (shift, ctrl, alt) in total accuracy and comfort using a single key stroke. You can also switch between up to 20 profiles for each game or avatar at the press of a button.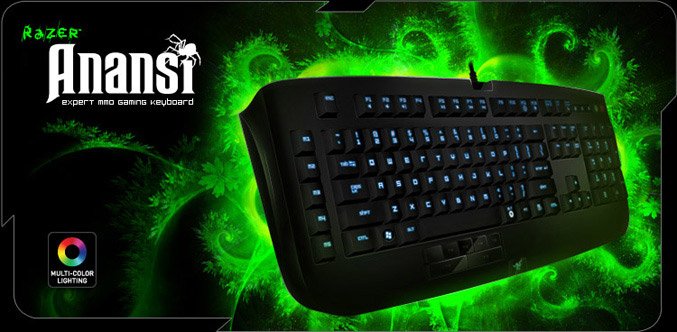 The features continues with the ability to customize the key backlighting from over 16 million colors and to switch ин gaming mode option for deactivation of the Windows key. The keyboard utilize USB connection, measures 515(L) x 190(W) x 22(H) and lets you Get Imba in December (guess about which game) with price $99.99/EU €99.99.