The latest creation for the gamers' needs from Roccat Labs is the Illuminated Gaming Keyboard called Isku. The new weapon have 123 medium-height, standard-layout keys, has anti-ghosting capabilities, also multimedia keys, 1000Hz polling rate to ensures an ultra-fast keyboard response without any lag and is equipped with company's latest ROCCAT Talk and patented EasyShift[+] technologies.
The Isku offers 36 macro keys,  allowing you up to 500 actions per macro and offers 6 brightness levels, to help you hit the right key even in the dark. The included EasyShift[+] technology, doubles the number of key functions and allows even greater customization, It has three such zones (M1-M5, 20 EasyZone keys, T1-T3) positioned in and around the WASD zone, and even the useless for gamers Caps Lock key is also configured as the EasyShift[+] key for easy combinations.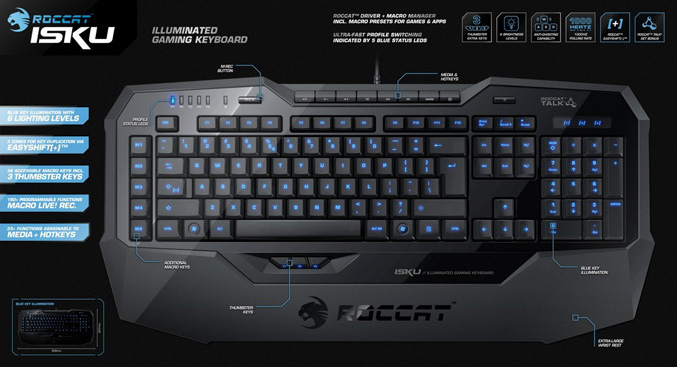 The Roccat's Talk technology allows the mouse and keyboard "to talk to each other for the first time ever", opening up a host of unprecedented options for gamers. This technology works in conjunction with the others company products, such as  ROCCAT Kone[+] and allows one single EasyShift[+] key or button to be configured for the mouse and keyboard. This means that EasyShift[+] functions on the mouse can be executed by pressing the keyboard's EasyShift[+] key – and vice-versa.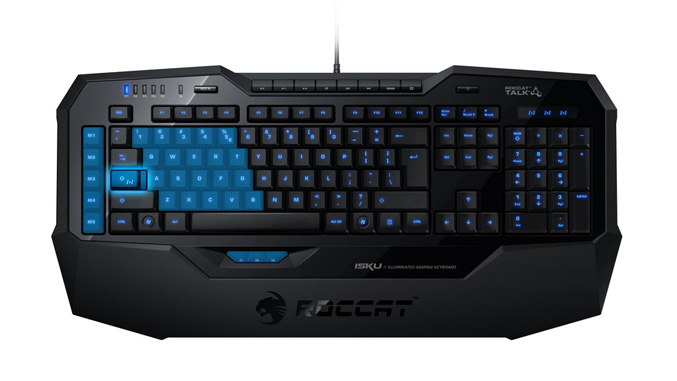 The ROCCAT Isku – Illuminated Gaming Keyboard will be available from Q2 2011 for the MSRP of €79.99