October will see the launch of PSPgo, a new of evolution of PSP handheld from Sony Computer Entertainment Inc. With its ultra-portable design and digital content focus, PSPgo will take its place alongside the PSP-3000 to deliver the ultimate mobile gaming experience.
Memory Stick™ Micro is the perfect way to get the most out of PSPgo. The 16GB M2 card doubles the standard memory, hugely increasing the range of games, movies, music and photos at your fingertips. The Memory Stick Micro will also include a free Duo-size adaptor, making it easy for people to use their M2 card on PSP systems they may already own (PSP-3000, PSP-2000 and PSP-1000).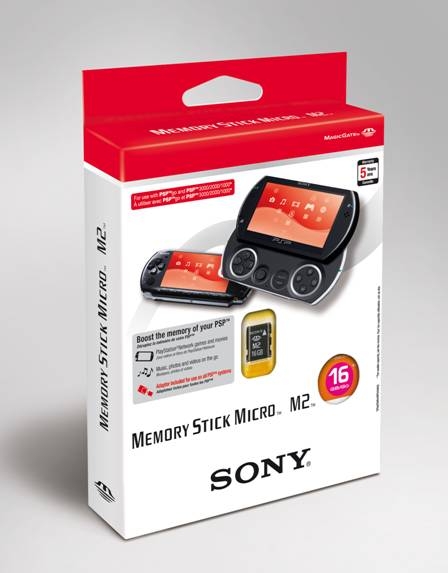 The choice of high capacity 8GB and 16GB M2 cards means maximum added value for PSPgo owners wanting to get the absolute best from the console. The huge boost in capacity is an open invitation to download more games and movies from the Playstation®Network, putting more entertainment at your command wherever and whenever you want it. With so much space to play with, there's room for a huge choice of music and photos too. The 16GB M2 card can hold 7 PSP games (based on an average size of 700MB), 4 movies (approximately 1.5GB each), 900 songs (based on a 4 minute 128Kbps MP3 average per track) and 2000 photos (at 5 megapixel resolution).
To mark the launch, the 16GB M2 card will come with an exceptional music promotion delivered in partnership with Sony Music over the winter period. Using a special code in the packaging, customers will be entitled to download 100 tracks from an online choice of over 30,000 available online from Sony Music. Consumers will be able to play and store their favourite music on their PSPgo. Taking advantage of this very special offer is quick, easy and absolutely free.
Memory Stick™ is the ideal companion for any PSP system. From October, all PSP owners will have a choice of Memory Stick products to suit every requirement. In addition to the new 8GB and 16GB M2 cards, a full range of Memory Stick PRO Duo™ cards in sizes from 2GB to 16GB is also available.
Source: Sony