Innex announced today that it has acquired the distribution rights for the first ever age-restricted shooting game accessory in history. The simulated machine gun is intended only for mature video game players aged seventeen or older, and comes with a warning label.
The new gaming weapon which is designed and manufactured by Komodo is entitled "The RapidShot" and will be introduced on the 15th of June, 2010, at the E3 Expo in Los Angeles.
President of Innex, Titi Ngoy, said that Video games are not just for kids anymore and points out that more than half of the adults in the United States play video games, and that these adults compose a significant percentage of the $1.3 billion video game accessory market. Titi Ngoy also said that Graphics and stories are much more intense and mature than ever before, and that it is about time a video game company delivered a realistic accessory to match that intensity.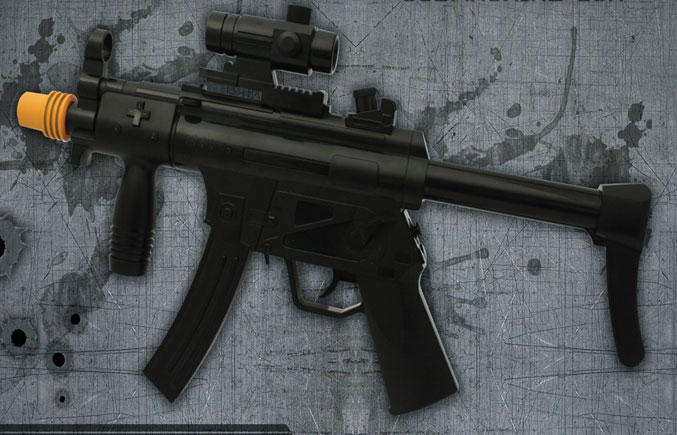 The RapidShot is a clone of the Heckler & Koch's MP5 Submachine gun. It is designed especially and exclusively for the Nintendo Wii video game console. The RapidShot comes with a built-in controller functionality which is similar to the Wii Remote, Nunchuk, and Wii Motion Plus, and enables gamers to simply point and shoot on-screen objects and enemies. The detachable clip contains the batteries, adding more realism to the accessory.
Marketing Manager of Innex, John Drdek, said that he is very familiar with military weaponry. Having trained with a realm MP5, he said that the RapidShot is the closest simulation to the real thing he has every used.
Innex decide to apply their own warning label to The RapidShot packaging, although they hold an account with ESRB. Ngoy said that the ESRB had never dealt with anyone creating an age-restricted video game peripheral and that this is a very realistic combat accessory, and they want to ensure that parents understand that.
Drdek also stated that a lot of their fans are military, ex-military, or adults who simply have a passion for realistic battle simulations, and that this is evident in the success of games like Call of Duty: Modern Warfare.
The RapidShot will be available for live demonstrations at Booth 5514, West Hall, on the 15th to 17th of June, 2010.