A-DATA Technology Co. Ltd, the worldwide leader in DRAM module and Flash Application products, has launched the world's slimmest Portable Hard Disk Drive – NH92 for trendy mini-notebook users at Computex 2009. The thickness of NH92 is 12mm with merely152g in weight, which is the slimmest size at current market and the lightest weight for aluminum case.
Aimed at trendy mini-notebook users, NH92 comes in three colors, light sliver, cherry pink and ocean blue, matching the latest appearance of mini-notebook nowadays. With the eye-catching aluminum case and unique tailored leather pouch, NH92 is extinguished by its sleek design. If you touch its surface, you can feel the delicate and exquisite texture through your fingers smoothly. When exposing to light, the exquisite texture allows it to reflect special gloss heightening its quality. Besides, its easy-carrying attributes, light weight and small size, are suitable for people who travel often.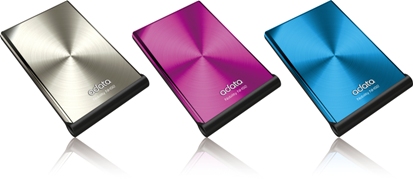 The extremely light weight and thickness of the 2.5 inch NH92 are available from 250GB to 500GB.The large capacity of NH92 makes it a walking database allowing you to carry large amounts of data all the time. With the high-speed USB 2.0 interface, NH92 provides the availability of transferring large size of data in a short time, boosting your working efficiency tremendously. The special shock-resistance design increases the portability easier for you to carry with it. Overall, NH92 makes your life more convenient with elegance. If you are a mini-notebook user, NH92 is surly a lightest choice to match with your trendy mini-notebook.
Source: A-DATA