A-DATA Technology, the worldwide leader in DRAM module and Flash application products, has released DDR3 1066/1333 4GB SO-DIMM, the ultimate DRAM solution that unleashes the power of the new Apple® Mac OS® X Snow Leopard for Mac fans.
By launching high density DDR3 1066/1333 4GB SO-DIMM, A-DATA proves itself the leading position in providing users with complete DDR3 solutions. By adopting original DRAM IC, the high density DDR3 4GB SO-DIMM allows users to experience extreme performance while increasing work efficiency tremendously. Improving Mac's performance with less power consumption, A-DATA DDR3 4GB SO-DIMM has the advantage of low voltages and low latencies; and undergoes thorough strict in-house testing to guarantee 100% compatibility with Apple® Mac OS® X Snow Leopard.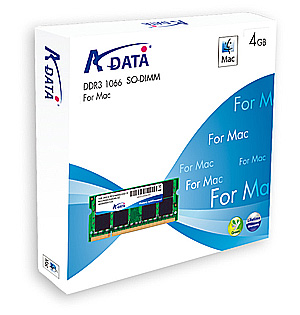 Highly reliable, A-DATA DDR3 1066/1333 4GB SO-DIMM are available in 2GB and 4GB single module with reasonable price. In addition to offering DDR3 SO-DIMM, A-DATA also provides Mac fans various DRAM module solutions both for Mac laptop and desktop including DDR2 SO-DIMM, DDR2 Unbuffered-DIMM, DDR2 FB-DIMM. For more information regarding A-DATA Apple series, please visit www.adata-group.com.
Source: A-DATA