Acer America, the third largest vendor in the PC market,announced that the Acer Veriton X270 series of business desktop PCs are available in the North American commercial channel. Offering multi-core power and high data security in a compact design, the Veriton X270 delivers the speed, flexibility and reliability to take on demanding business applications.
The Veriton X270 leverages a choice of Intel processors, including Intel® Core™ 2 Duo, high-performance Serial ATA hard disk technology and DDR2 memory for quick and efficient multi-tasking between email, spreadsheets and presentations. NVIDIA® GeForce® 7100 graphics with PureVideo® HD technology provide superior picture quality and crisp streaming media, which is increasingly important for video-conferencing.
"Our new Veriton X270 was engineered to meet the needs of today's organizations that are expected to do more with less," said Leila Axelle Robert, Acer Desktop Business Manager. "Companies today require tighter security and more efficiency for a streamlined approach to business. The Veriton X270 is engineered to tackle multiple demanding applications with ease to increase worker productivity, a must in today's market."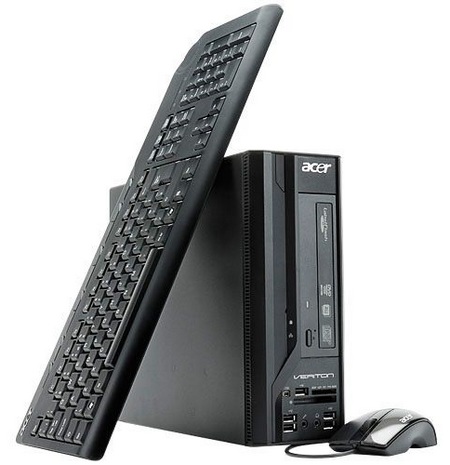 Convenient, Space-Saving Design
The Veriton X270 desktop is built to be robust and showcases a sharply refined chassis design, making it a handsome addition to any office. Most importantly, it's housed in a compact 10 liter case, so it fits within tight spaces to maximize desk space, critical in cube environments.
For easy access and reach, the power button is conveniently located toward the top of the chassis and the optical disk drive is door-less. USB 2.0 ports are positioned both on the front and rear of the chassis for a total of nine convenient connections to printers, flash drives, VoIP phones, etc.
Superb Audio/Visual Capabilities
Outfitted with NVIDIA PureVideo® HD technology, the Veriton X270 provides superb picture clarity and utilizes less of the CPU, reducing power consumption, heat and noise, while prolonging battery life. DirectX® 10 infuses streaming media with crisp detail for productive video conferencing and quickly renders 3D graphics to enhance visual quality.
The system also comes with an HDMI™ port, the only interface that supports both audio and video transmission via a single cable. For excellent sound, 5.1 channel high-definition audio is integrated to enhance clarity for conference calls and other business audio demands.
Tight Management and Security
Hardware manageability and security are critical in most companies today. The Veriton X270 allows administrators to manage assets as well as to diagnose, reboot and repair systems remotely. Security updates can be pushed to PCs even when they're powered off, reducing deployment time. Removable data devices, optical drives, and other interfaces are password protected and an eSATA drive backs up large files, photos and videos. Along with Acer's Empowering Technology management suite – an easy-to-access interface for quick PC system adjustments – the Veriton X270 is plumbed to keep data safe.
Excellent Connectivity
In addition, PCI Express 2.0 optimizes computer components, such as high-end discrete graphics cards and network cards for the fastest performance available. Furthermore, Gigabit Ethernet is provided to deliver users an efficient, secure and stable office LAN connection. It keeps corporate employees consistently in touch and up-to-date while lowering IT service costs.
Specifications for the Veriton X270 Desktop PC Include:
Up to an Intel® Core™ 2 Duo Processor (Up to 95 W)
Integrated NVIDIA® GeForce® 7100 and nForce 630i Graphics
Up to 4GB DDR2 557/800 MHz SDRAM (Single Channel Support on Two DIMMs)
Serial ATA Hard Disk Up to 500GB(2)
SuperMulti with Labelflash™ Technology
Low-Profile Expansion Slots: One PCI Express® x16, One PCI Express® x1, Two PCI 2.3
Gigabit LAN
Genuine Windows Vista® Business
Microsoft Office Professional 2007 (60-Day Trial)
Embedded High-Definition Audio With 5.1-Channel Surround Sound Support
Pricing and Availability
The Veriton X270 desktop PCs are now available in North America via Acer authorized resellers with prices beginning at US$399.
The Veriton X270 desktop PCs come with a standard one year limited warranty with limited on-site service.
Source: Press Release