Happily embracing Intel's first Nehalem processors, Alienware has just introduced the Core i7-powered Area-51 X-58 and ALX X-58 gaming systems. Starting at $1,349, the Area-51 X-58 can be equipped with one of three (920, 940 and 965 EE models) Core i7 CPUs, a X58 motherboard, up to 12GB DDR3 1066 MHz memory, at least a Radeon HD 4670 graphics card (up to GeForce GTX 280 SLI / Radeon HD 4870 X2 CrossFireX), 2TB of storage (or two 300GB VelociRaptors) and even a 4x Blu-Ray writer.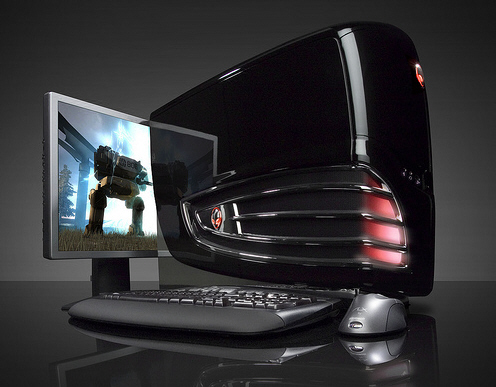 Kicking off at $3,699, the ALX X-58 has the same CPU and memory options but comes with at least one Radeon HD 3870 X2 or two GeForce 9800 GTX cards, 2TB via two 7,200 RPM drives or 600 GB through two 10,000 RM HDDs, and a Blu-Ray burner.
Both systems can be equipped with liquid cooling systems and 750, 1000 or 1200-watt power supplies.
Tech Spec

Operating Systems

Windows Vista® Home Premium – 64 Bit
Windows Vista® Ultimate – 64 Bit

Processors, Chipset & Memory

45nm Intel "Penryn" CPU architecture

Intel® Core™ 2 Duo (6MB Cache, 1333MHz FSB)
Intel® Core™ 2 Quad (12MB Cache, 1333MHz FSB)
Intel® Core™ 2 Extreme (12MB Cache, 1333MHz FSB)

NVIDIA® 750i SLI Chipset

Up to 8GB Dual Channel DDR2 at 800MHz

4 dedicated DIMM slots for Dual Channel DDR2 Memory

Graphics & Video

Standard Single GPU Graphics Cards

512MB NVIDIA® GeForce™ 9800 GT

1GB NIVIDA® GeForce™ GTX 280

2GB ATI® Radeon™ HD 4870 X2

Optional Dual GPU Graphics Cards

512MB NVIDIA® GeForce™ 9800 GT

1GB NIVIDA® GeForce™ GTX 280

2GB ATI® Radeon™ HD 4870 X2

Storage

Single Hard Drive

7200 RPM – up to 32MB cache and 1TB storage

10,000 RPM – up to 16MB cache and 300GB storage

Dual RAID 0 Hard Drives

7,200 RPM – up to 64MB cache and 2TB storage

10,000 RPM – up to 32MB cache and 600GB storage

Optical Drives

20x Dual Layer DVD Burner (CD-RW/DVD±RW)

Dual Layer Blu-ray Reader (BD-ROM, DVD±RW, CD-RW)

4x Dual Layer Blu-ray Burner (BD-RE, DVD±RW, CD-RW)
Networking

Wired Connectivity

Integrated Gigabit Ethernet RJ-45

Audio

Standard 7.1/5.1 Digital High-Definition Audio (8 Channel)
Connectivity Front and Rear

2x Auto-sensing headphone jack

2x Auto-sensing microphone jack

Optional Enthusiast Audio Options

Sound Blaster X-Fi High Definition Surround Sound Audio

Peripheral Connections

8 Hi-speed USB 2.0 ports

2 IEEE 1394b (9-pin) port – Powered

1 E-SATA port

Case & Chassis

Exclusive Alienware chassis design

AlienIce™ 3.0 high-performance cooling

Standard system lighting

Optional AlienFX System Lighting

Standard 750-watt Multi-GPU-approved power supply

Optional 1000-watt Multi-GPU-approved power supply

Optional 1200-watt Multi-GPU-approved power supply

Tool–less front and side panels

Height: 19.01"

Width: 9.97"

Depth: 25.02"
Source: TechConnect Magazine