Amd Launches Six-Core AMD Opteron Processor

AMD  today announced availability of the world's first six-core server processor with Direct Connect Architecture for two-, four- and eight-socket servers. Six-Core AMD OpteronTM processors (code-named "Istanbul") extend AMD's commitment to offering server customers superior value at every price point with unmatched platform flexibility.
Across a single platform, AMD can address the need for more cores and greater scalability with the new Six-Core AMD Opteron processor and offer a cost- and power-efficient solution with Quad-Core AMD Opteron processors. Systems based on Six-Core AMD Opteron processors are expected to be available beginning this month from leading OEMs including Cray, Dell, HP, IBM and Sun Microsystems, along with support from motherboard and infrastructure partners. HE, SE and EE versions of the Six-Core AMD Opteron processor are planned for the second half of 2009.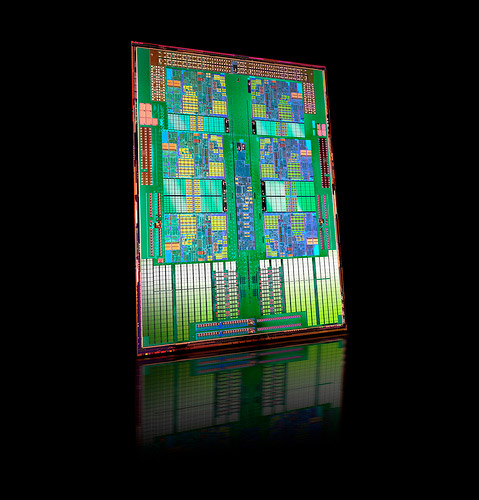 * Six-Core AMD Opteron processors leverage existing platform infrastructure and a low-cost, power-efficient DDR-2 memory architecture which can help lower system acquisition costs;
* HPC, virtualization and database workloads can benefit from increased 4P STREAM memory bandwidth of up to 60 percent1 enabled by HyperTransportTM technology HT Assist, which helps reduce processor to processor latency and traffic;
* AMD VirtualizationTM (AMD-VTM) technology and the AMD-P suite of power management features are available across all performance and power bands, ensuring no-compromise choice;
* The new Six-Core AMD Opteron processor has up to 34 percent more performance-per-watt over the previous generation quad-core processors in the exact same platform.2 (AMD OpteronTM processor Model 2435 [SPECpower_ssjTM2008 overall 1297 ssj_ops/watt, 501,246 ssj_ops at 287W @ 100% target load] compared to AMD OpteronTM processor Model 2382 [SPECpower_ssjTM2008 overall 970 ssj_ops/watt,376,878 ssj_ops at 272W @ 100% target load])
"Based on close collaboration with our customers, we believe there is a clear value shift changing the economics of the server market," said Patrick Patla, vice president and general manager, Server and Workstation Business, AMD. "The new Six-Core AMD Opteron processor meets the increasing need for a combination of low total cost of ownership, superior performance-per-watt and scalability. Simply put, Six-Core AMD Opteron processors deliver top-line performance that's bottom-line efficient."
Source: AMD