AMD revealed today new details on its two new designs, codenamed "Bulldozer" and "Bobcat", next-generation x86 processor core implementations. The Bulldozer is designed for high-performance PCs, while the Bobcat is designed for low-power notebooks, both of which are designed from the ground-up to address the specific customer demands.
"In my opinion, Bulldozer and Bobcat are not only two of the greatest technical achievements in AMD's rich history, but two of the most important for the industry as well," said Chekib Akrout, senior vice president and general manager, AMD Technology Development. "With CPUs and APUs built from these core implementations, we expect our customers to deliver a new wave of innovative PC form factors and high-performance computing experiences."
Chief Architect of Bobact, Brad Burgess, and Chief Architect of Bulldozer, Mike Butler, will present in the "New Processor Architectures" session at HOT CHIPS 22. The Bulldozer and Bobcat cores are expected to continue the evolutionary path and change the experience of the user with the products.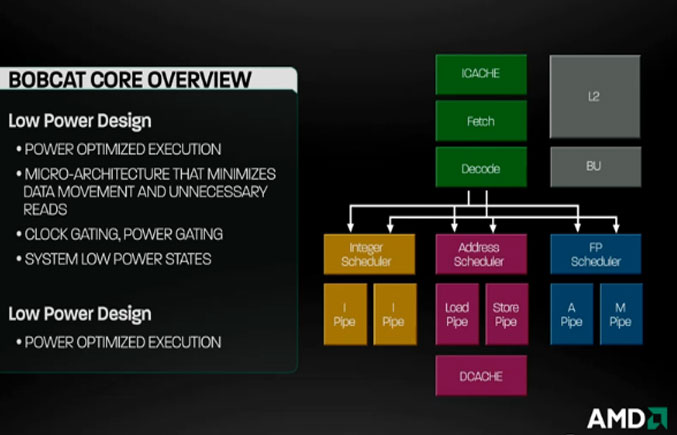 "Attacking both high-performance and low-power markets simultaneously with two brand new architectures is an impressive accomplishment that serves notice to the industry that innovation is alive and well inside AMD," observed Nathan Brookwood, research fellow at Insight 64.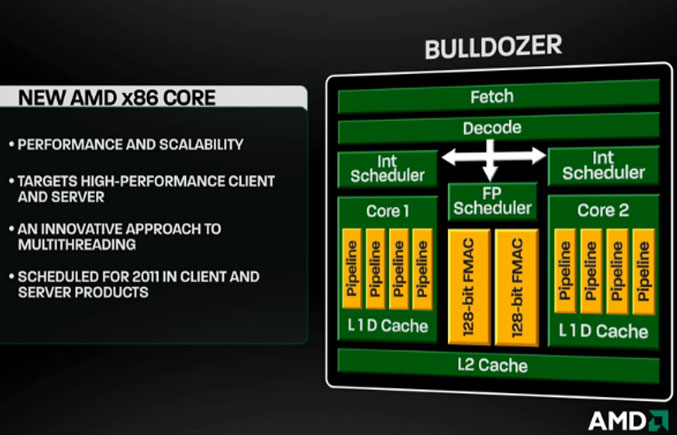 Highlighted Features of the cores include:
Bulldozer Core:
An innovative approach to multithreaded compute performance that balances dedicated and shared compute resources to provide a highly compact, high core count design that is easily replicated on a chip for performance scaling
New x86 instruction support (SSE4.1, SSE4.2, AVX, and XOP including 4-operand FMAC)
Advanced power management features
Manufactured on advanced 32nm process technology
Bobcat Core:
Sub-one-watt capable operation
Out-of-order instruction execution for higher performance
Estimated 90 percent of today's mainstream PC performance in half the area
Core power gating and a microarchitecture optimized for low power
Highly synthesizeable design that moves easily across manufacturing technologies