Amex Digital announced slim 4X Blu-ray Recorder BDR-S1 / BDR-T28

The Portable 4X Blu-ray Recorder Super Multi Drive supports on the latest green ECO S.M.A.R.T to maximizing battery life more than 40% and STAT Drive with 30% faster data transfer rate.
High speed USB 2.0 convenience connection and AC adapter free designs, Quiet Drive Technology reduces the noise level of audio and video recording or playback while also delivering increased writing reliability. Liquid Crystal Tilt/Blur Compensator plays and records to discs more reliably – the ad Research technology that compensates for warped discs. Dual/Double Layer recording provides nearly twice the capacity of a single layer recordable Blu-ray-R (25 Gbytes vs. 50 Gbytes).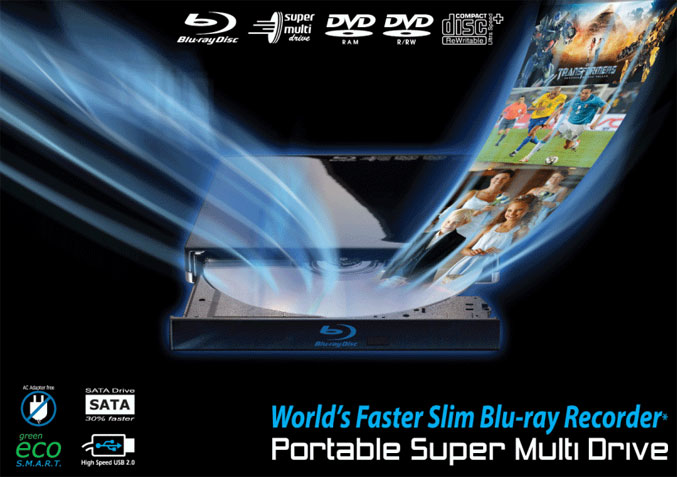 Technical details:
Models

BDR-S1 Blu-ray

Recorder / BDR-T28

Blu-ray Recorder

Interface

SATA to Hi-speed USB 2.0 (30% faster data transfer rate)

Disc Loading Method

Tray loading

Green ECO S.M.A.R.T

Automatic Economic Mode Installed (

maximizing battery life more than 40%)

Max. Transfer Speed (Read/Write)

BD-RE/-R (SL)

4X Speed Writing / Reading

BD-RE/-R (DL)

2X Speed Writing / Reading

BD-ROM (SL / DL)

4X Speed Reading

Max. Transfer Speed (Read/Write)

DVD+/-R

up to 8x CAV

DVD+/-R DL

up to 4x ZCLV

DVD+/-RW

up to 8x ZCLV

DVD-RAM

up to 5x ZCLV

CD-R

up to 24x ZCLV

CD-RW

up to 16x ZCLV

Supported Media Formats

BD-ROM, BD-ROM DL, BD-R, BD-R DL, BD-RE, BD-RE DL, DVD-ROM, DVD-ROM DL, DVD+R, DVD+R DL, DVD+RW, DVD-R, DVD-R DL, DVD-RW, DVD-RAM (Ver.2), CD-DA, CD-ROM (Mode 1 and mode 2), CD-ROM XA (Mode 2, form 1 and form 2), Photo CD (Single and multiple sessions), CD Extra, CD-R, CD-RW and CD-TEXT
Available Colors
The price for recorder is US$599.00
Source: Amex Digital