Analog Devices announced as they claims the industry's smallest, single-chip receivers which incorporate HDMI version 1.4a and are suitable for power-sensitive, ultra-slim home theater-in-a-box systems, projectors, AVRs (audio/video receivers), high-bit-rate TVs, matrix switches and sound bar speaker systems.
Both new low-power receivers – ADV7611 and ADV7612 offer a 50 percent smaller footprint and a 25 percent reduction in power consumption for designs with 720p and 1080p resolutions. The 165-MHz single input HDMI-capable receiver DV7611 measures only 10 mm x 10 mm x 1.6 mm and the ADV7612 (14 mm x 14 mm x 1.6 mm) 225-MHz dual-port receiver feature an on-chip CEC (consumer electronics component) controller, support for HDCP 1.4 and complete audio support of S/PDIF (Sony/Philips digital interface format) for compressed audio, including Dolby Digital and DTS and 2-channel I2S audio for transmitting stereo at sample rates up to 192 kHz.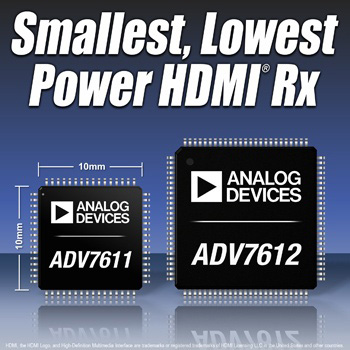 The ADV7612 is aimed at high-performance A/V systems, offers 1080p/60f display resolution with up to 36-bit Deep Color and incorporates ADI's proprietary Xpressview fast switching technology, which enables seamless, automatic switching between HDMI-enabled devices in less than one second, while the ADV7611 offers 1080p/60f display resolution with 24-bit color.
"Until today, designers of high-performance A/V portable devices and infotainment systems were forced to use multiple, higher-power components to offer system designs with feature-rich interfaces," said Charles O'Roark, product line director, digital video products, Analog Devices. "By incorporating ADI's low-power receiver, HDMI technology, and a feature-rich A/V interface onto a single chip, designers can achieve an unequalled combination of performance and accuracy, while eliminating the power limitations that restrict portability and increase system design cost."
Both HDMI receivers are available now with price each per 1,000 – $6.09 (ADV7611 ) and ADV7612 for $6.77.