ASUS announced the ASUS N81Vg, the world's first notebook to feature the new NVIDIA® GeForce™ GT 120M graphics processing unit (GPU). The NVIDIA® GeForce™ GT 120M GPU features NVIDIA CUDA™ technology with 32 processor cores, DirectX 10 support, and 1080p High Definition video playback through NVIDIA® PureVideo® HD technology. Coupled with the ASUS N81Vg's 14-inch LED backlit display, the NVIDIA® GeForce™ GT 120M delivers unrivalled visual clarity and vibrancy.
Combining Effortless Mobility with Stunning Graphics Performance
The pairing of the ASUS N81Vg and the NVIDIA® GeForce™ GT 120M provides users with numerous multimedia options in a small, highly portable notebook designed to take entertainment to the streets.
"The ASUS N81Vg uses the GeForce GT 120M GPU to deliver a visual computing experience far superior to other notebooks in its category today," said Rene Haas, General Manager, Notebook Products, NVIDIA. "With 32 powerful processing cores, the GeForce 120M GPU makes photo editing, video editing, movie ripping, high-definition Blu-ray playback and gaming a reality on 14-inch notebooks."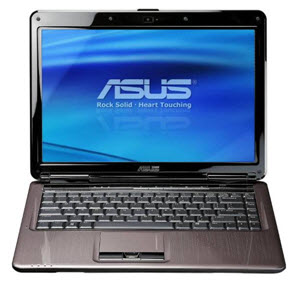 "We are proud to offer consumers a notebook that is capable of providing spectacular graphics and stunning clarity while maintaining effortless mobility," said Alvin Chou, Senior Product Manager of ASUS' Notebook Business Unit. "By combining sublime graphics performance, smart technologies and supreme ease of use, the N81Vg is the ideal notebook for those who would like to enjoy multimedia to the fullest."
NVIDIA® GeForce™ GT 120M – Fast Forward Visual Experience for All
The NVIDIA® GeForce™ GT 120M features the latest NVIDIA® CUDA™ technology, which harnesses a massive 110 gigaflops of computing power for a myriad of applications such as video conversion and High Definition enhanced DVD playback with up to 15 times higher frame rate. Users can enjoy greater productivity with CUDA-enhanced photo and video editing applications such as CyberLink PowerDirector and motionDSP vReveal. With DirectX 10 support, users can experience realistic in-game texture details, high dynamic range lighting and special visual effects. NVIDIA PureVideo® HD handles 100% of the video decoding process, producing 1080p High Definition visuals with sharper images, smoother transitions and more vibrant colors.
With a 3DMark® 2006 score of 5,431, the ASUS N81Vg delivers up to 15 times better performance than most other 14-inch notebooks, thus satisfying discerning users with a penchant for High Definition audio and visual enjoyment while on the go.
Reliable Computing and Entertainment with Variable Power Modes
The ASUS N81Vg lasts 3 hours* in Performance mode and 4 hours* in Battery Conservation mode—in both cases an hour more than similarly-specified notebooks.
Specifications
Processor & Cache Memory

Intel® Core™ 2 Duo Processor T9400/P8600/P8400/P7350/T6600/T6400/T5900/T5800

Operating System

Genuine Windows Vista® Ultimate (other editions also available)

Chipset

Mobile Intel® PM45 Express Chipset

Main Memory

DDR2 800MHz up to 4096MB, 2x SO-DIMM

Graphics

NVIDIA® GeForce™ GT 120M

Display

14.0″ (Glare Type, LED backlit)

Hard Drive

SATA 160GB / 250GB / 320GB/ 500GB

Optical Drive

DVD Super Multi
Blu-ray DVD Combo

* Video Camera (optional)

Built-in 1.3 M Pixel camera

Dimensions and Weight

342mm x 256mm x 36mm, 2.5kg (with 6-cell battery)
*Subject to system specifications and usage.
Specifications are subject to change without prior notice. Please visit www.asus.com for more information.