ASUS, the leading innovator and provider of PC Hi-Fi audio solutions, today launched the ASUS Xonar DS 7.1 channel audio card. Designed by the CES-award winning ASUS Xonar team, this latest member of the Xonar D Series is equipped with design features found only on high-end audio equipment, fully catering to audiophiles seeking to enjoy high fidelity audio on their PCs-across all forms of entertainment including music, movies and games.
Cleaner, Crisper Sound with Noise Elimination
The Xonar DS boasts 107dB SNR, which is 12 times clearer than most onboard audio solutions. By eliminating 91% of background noise, the Xonar DS lets gamers hear every detail in the game audio, allowing them to locate enemies from a distance and thus giving them the edge in their games. This noise elimination also leads to a more enjoyable movie watching and music listening experience, with previously noise-obscured sounds coming to life with the Xonar DS' high fidelity audio presentation. The Xonar DS performs equally well in a wide variety of usage scenarios, delivering the best sounding audio in each situation.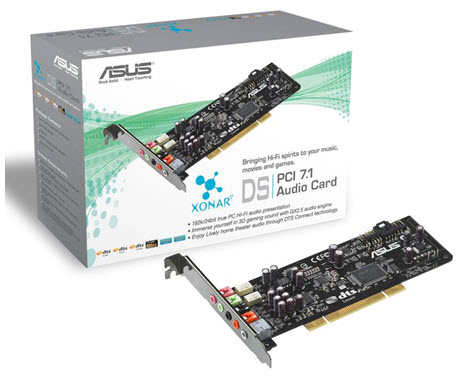 Supports the Latest GX 2.5 for Gaming on Windows Vista® and Windows XPTM
With the Xonar DS' immersive GX 2.5 audio engine, users will be able to experience truly believable, ultra-realistic audio in today's games. This audio engine enables the latest EAX technologies, DirectSound effects and full surround sound in Windows Vista without additional software. With the Xonar DS, users will be able to hear their enemies breathing behind them or voices echoing in deep cavernous dungeons.
Innovative VocalFX Makes Gaming and Online Chat Livelier and more Engaging
VocalFX is an innovative voice processing technology that allows users to insert voices into realistic game landscapes (VoiceEX), or inject audio 'backdrops' into online chats (ChatEX). It also allows them to change their voice pitch to disguise who they are (Magic Voice). These features dramatically increase the fun of voice communication during multiplayer gaming and online chats.
Superior Connectivity and Conveniences
The Xonar DS offers a host of connectivity options and conveniences. It boasts an Intel HDA compatible jack-sensing front panel header which automatically switches signals from the back panel to the front whenever headphones are plugged into the front panel output. Providing the best digital output connectivity among low-profile cards, the Xonar DS' S/PDIF output combines with the less utilized rear surround analog output jack, and the optical digital output adaptor is bundled in package. This means that users no longer need to purchase extra digital I/O modules, unlike certain competitors' products. The Xonar DS has another onboard internal S/PDIF header, offering excellent digital audio to HDMI-ready graphics cards.
Delivers a Hi-Fi Theater Experience on Desktops with DTS ConnectTM Technology
Consisting of DTS Neo: PCTM and DTS InteractiveTM technologies, DTS ConnectTM brings the world's most appreciated Hi-Fi surround sound to the PC, transforming it into a powerful multimedia center and game console. DTS InteractiveTM converts gaming audio into sensational DTS Digital Surround to feed systems with the world's best surround sound available, while DTS Neo: PCTM automatically converts stereo audio into 7.1 channels to get the most out of multichannel speaker setups.
192kHz / 24bit Support for Lossless Hi-Fi Audio
Normal sound cards can only support up to 96kHz, which just cannot keep up with the 192kHz/24bit lossless audio content standard. The Xonar DS' 192kHz/24bit playback support allows users to enjoy every music file converted at the highest quality without any sample rate downgrade.
Swappable OPamp Sockets for Easily Customizable Sound
Normally only present on high-end audio equipment, the design utilized by the Xonar DS includes swappable OPamp sockets that allow users to customize their sound by solderlessly adjusting the OPamp, creating new listening flavors with ease.
The Xonar DS Offers Well-rounded Audio Performance Improvements:
* 107dB SNR with 91% noise reduction for dramatically clearer audio
* For gamers: The GX 2.5 audio gaming engine and DTS InteractiveTM encodes gaming audio to the DTS surround format in real-time
* For home theaters: DTS ConnectTM brings the aural immersion of a Hi-Fi theater to your desktop
* For music lovers: 192K/24bit support and swappable OPamp sockets offer audiophile-grade audio and flexibility
Specifications
Audio Performance
Output Signal-to-Noise Ratio (A-Weighted):
Up to 107dB
Output total harmonic distortion + Noise at 1kHz
(A-Weighted):
Up to 0.0017% (-95dB)
Bus compatibility
PCI
PCI v2.2 or higher
I/O Ports
Analog output jack:
Mini jack x 4 (Front/Side/Center-Subwoofer/Back)
Analog input jack:
Mini jack x 1 (Line-In/Mic-In)
Digital S/PDIF output:
High-bandwidth Optical Connector supports 192KHz/24bit (shared with Back surround output jack); Additional SPDIF-out header for HDMI audio output
Other line-level analog input (for CD-IN or TV Tuner):
Aux-In (4-pin header on the card)
Front panel audio header
Intel HDA front panel compatible, supports HP jack-detection and automatically switches audio output from back panel to front
Driver features:
DTS Connect technology
DS3D GX2.5
VocalFX
Smart Volume
ASIO2.0
Source: Asus