As a globally renowned manufacturer of computer peripherals and optical drives, ASUS is constantly at the forefront of cutting edge technologies, providing users with innovative solutions for everyday computing. In pursuing this philosophy, the new ASUS External Slim SDRW-08D1S-U utilizes user-centric design in the Scenario-Based Design model to better address the needs of the user. By integrating these needs into its development and creation, the ASUS External Slim SDRW-08D1S-U combines both aesthetics and practicality.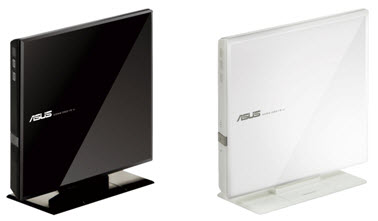 Stylishly Simple to Use with Low Power Consumption
Sporting an elegant stand design and high glossy appearance showcasing excellent craftsmanship and quality, the ASUS SDRW-08D1S-U brings together high-speed data access technology and style with its attractive, vertical external DVD burner. A user-friendly software interface allows users to easily burn discs; allowing users to simply drag and drop data into the thumbnail layout when they are burning documents and media into a new disc. Drawing power from the computer and harnessing the transmission speeds of a USB 2.0 port, users can experience high-speed data transfer speeds while utilizing little power, perfect for the modern computing era.
Mobility and Disc Encryption for Trouble Free Mobility On-the-go
The ASUS SDRW-08D1S-U acquires power from the USB port of the users' notebook or desktop, hence there is no need for an additional power adapter—further reinforcing its portability. Users seeking to protect their data will appreciate the Disc Encryption technology, which allows users to password-protect an entire disc or its partial contents with 128-bit encryption.
Turbo Engine
Turbo Engine increases the connection performance between the USB cable and the optical drive. Traditionally, the computer's bandwidth slows down conventional optical disc drives while reading or writing data. With Turbo Engine, the ASUS SDRW-08D1S-U is able to read and write data at the highest speed.
ASUS SDRW-08D1S-U Specifications
Write Speed

DVD

+

R(SL)

8X (CAV)

DVD-RW

6X (ZCLV)

DVD+RW

8X (ZCLV)

DVD

+

R (DL)

6X (ZCLV)

CD-R

24X (ZCLV)

CD-RW

16X (ZCLV)

DVD-RAM

5X max.

Read Speed

DVD-ROM (SL)(DL)

8X max. (CAV)

DVD

+

R/RW

8X max. (CAV)

DVD

+

R(DL)

6X max. (CAV)

CD-ROM/R/RW

24X max. (CAV)

DVD-RAM

5X max.

Random Access Time

DVD: 150 ms and CD: 130 ms

Writing Mode

DVD-R: DAO, Incremental Recording

DVD-R/RW: Restricted Overwriting

DVD+R/RW: Incremental/Random Recording

CD-R/RW: DAO, TAO, SAO, Packet Write

DVD-RAM: Random Write

O/S Compatibility

Windows NT/2000/XP/Vista

Interface

USB 2.0

Data Buffer

2 MB

Bundle Software

CyberLink

Disc

Disc Formats

Write: DVD+/-R, DVD+/-RW, CD-R, CD-RW, DVD-RAM

Read: DVD-ROM, DVD-R/RW, Photo CD, CD-DA, CD-Extra, CD-Text, CD-R, CD-RW, DVD-RAM

Disc Diameters

12 cm and 8 cm

Configurations

Mounting Orientation

Vertical and Horizontal (+5° ~ -5°)

Dimensions (D/H/W)

156.4 * 140.8 * 21 mm

Weight

412g 435g (with stand)

Color

Black / White
Specifications are subject to change without prior notice. Please visit www.asus.com for more details.