ASUS is proud to announce the launch of the new S121 notebook, a versatile mobile computing companion for individuals who view their notebooks not only as tools, but also as accessories that complement their diverse lifestyles.

New Notebook Boasts Added Performance Features for Versatile Mobile Computing
In combining innovative technologies and a cutting edge design similar to that of the successful Eee PC™ S101 netbook, the ASUS S121 is a notebook that provides extensive multi-tasking capabilities and mobile performance that breezes through any occasion. Be it in the office or the trendiest parts of town on a night out, the ASUS S121 provides both charm and productivity anywhere.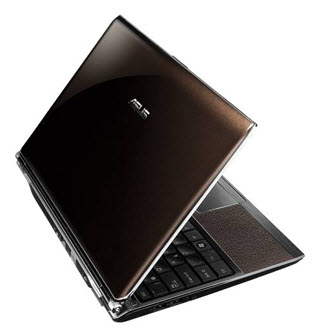 A Marque of Exquisite Taste and Design
As a notebook counterpart of the Eee PC™ S101, the ASUS S121 sports a majestic glossy brown Infusion finish that graces the LCD lid, while CRYSTALLIZED™ – Swarovski Elements masterfully imbedded into intricately crafted metallic hinges add a touch of class, reminiscent of a pair of marquis-cut diamond cuff-links on a business suit. The pièce de résistance, a luxurious and elegant leather palm rest, completes the ASUS S121—a celebration of high fashion and functionality.
Substance in Equal Measure to Style
Head-turning looks aside, the ASUS S121 also packs substance in the form of a suite of user-friendly features. Equipped with a 12.1″ energy saving, LED backlight display, the S121 provides comfortable viewing for documents, multimedia and Internet browsing without eye strain. Users who require a larger storage space for business or school will appreciate hard disk drive storage options up to 250GB, while users who travel frequently and need instantaneous data access while on the move can choose a Solid State Drive (SSD) of up to 512GB. With co-development with a 3rd party vendor, ASUS' SSDs are only 1.8″ thick; and are the world's largest density SSD drives at 512GB. Adopting the latest controller technology to offer twice as fast data transfer speeds in comparison to traditional hard drives, ASUS' SSDs also deliver absolute data protection by resisting shocks and knocks for better reliability, faster boot up time, and lower power consumption—making them definite must-have devices for ultra mobile notebooks.
Enjoy All-Day Computing with Extended Battery Life
The ASUS S121 features the exclusive Super Hybrid Engine (SHE) which greatly enhances the notebook's energy efficiency, letting users enjoy longer battery life per charge—enabling longer hours of continuous computing. SHE also offers a choice of performance and power consumption modes that allow users to make quick and easy adjustments to suit their usage scenarios. In addition, SHE has the ability to intelligently boost system performance under heavy load, thus enabling the notebook to meet the demands of processor and resource-intensive tasks.
Specifications:
Model

S121

Processor and Cache Memory

– Intel Atom Processor Z520 (1.33GHz, 533MHz, 512KB cache)

Operating System

– Genuine Windows Vista® Home Basic
– Genuine Windows XP
– GNU Linux

Main Memory

DDR2 533MHz 1 x SODIMM up to 2GB

Display

12.1″ LED backlight panel

Hard Drive

– 1.8″ SATA HDD up to 250GB / 5400RPM
– Optional 512GB SSD (MLC)

Optical Drive

External drives supported

Video Camera*

Built-in 1.3 M Pixel camera with array mic

Fax/Modem/
LAN/WLAN
– Wi-Fi 802.11n
– 10/100/1000 LAN
– Bluetooth®

Dimensions and Weight

– 29.7cm (W) x 21cm (D) x 0.23–0.26cm (H)
– 1.45kg (with 4-cell polymer battery)
* Subject to system configuration and usage.
Note: Specifications are subject to change without prior notice. Please visit www.asus.com for more information.
Source: Asus