ASUS, the leader in innovative motherboard solutions,  unveiled the first motherboard in its newly-developed "TUF" (The Ultimate Force) Series, the SABERTOOTH 55i. The TUF Series is specially developed to meet the heavy computing demands of power users and perform well even under extreme conditions. Such computer enthusiasts often demand high-quality motherboard components and the most stable computing platforms.
To achieve uncompromising stability, TUF Series motherboards have undergone a more stringent testing program than what most motherboard producers currently undertake. Solidly constructed and equipped with resilient components that have passed demanding military-style testing, the TUF Series triumphs over the harshest operating conditions to deliver robust performance. The debut SABERTOOTH 55i model, designed around a "Marine Cool" concept, incorporates the Intel® P55 chipset and "tough" features to give users a supremely solid and stable computing platform.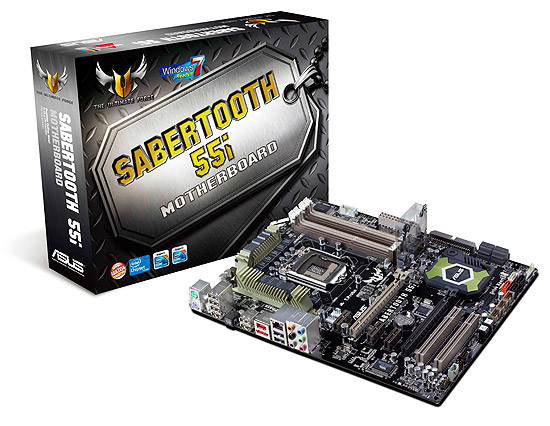 Ultimate Heatsink Cooling with Unique CeraM!X Microfin Coating
The ASUS SABERTOOTH 55i motherboard, equipped with the new CeraM!X heatsink, delivers exceptional cooling to active components and uncompromising system stability even under intense operating conditions. With its advanced ceramics-based composition—commonly used in the aerospace industry for heat insulation—the heatsink dissipates heat rapidly to achieve ultimate cooling. Ceramics replace traditional anti-oxidant compounds to create a microfin surface texture for enhanced cooling. This rough surface offers an expanded area for heat induction into the surrounding air. As a result, more heat is rapidly conducted away from the active system—allowing users to enjoy previously unattainable levels of stability.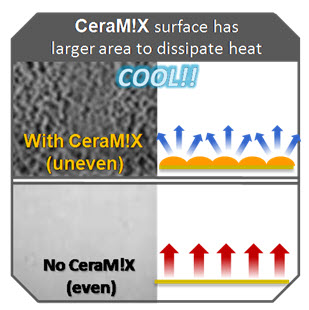 Direct Memory Cooling with Affordable CoolMem! Fan Frame
As optimal memory operation relies on good cooling, the SABERTOOTH 55i motherboard includes the CoolMem! Fan Frame that encloses most standard 40mm or 50mm computer fans and fits them directly over the memory module. Users thus gain an affordable cooling solution that significantly stabilizes memory operation.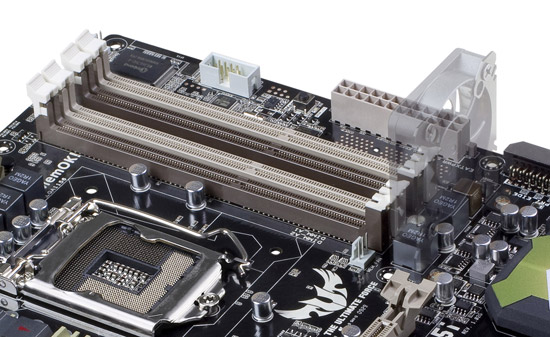 Resilient Performance from Military-certified Capacitors and MOSFETs
To ensure users experience uncompromising performance, the SABERTOOTH 55i incorporates only high-grade, rigorously-tested components. These perform robustly even under the most demanding conditions. For example, all its capacitors have undergone thermal shock tests to ensure continuous, stable operations during rapid temperature changes in the 60°C range. In fact, all its capacitors and VRM MOSFETs have been certified for military-level use through stringent testing.
Optimized Power Use with E.S.P.
The SABERTOOTH 55i motherboard delivers E.S.P. (Efficient Switching Power) to all major components for superb system efficiency. Besides delivering efficient power to the CPU and memory, the power design also applies the same level of efficient power to the PCIex16 expansion slots and IC. This improves overall power efficiency and reduces the amount of heat generated—resulting in cooler and more reliable operations. Additionally, the E.S.P. converts power at 90% efficiency compared to a conventional linear design that is only about 60% efficient. Built for robust performance, the SABERTOOTH 55i—and ASUS TUF Series motherboards as a whole—incorporates the latest breakthroughs in heatsink composition and high-grade, military-tested components to enable users to build their DIY systems around one of the most solid and stable motherboards ever created.
Specifications
Model
SABERTOOTH 55i
CPU
LGA1156 socket for Intel® Core™ i7/Core™ i5 Processors
Chipset
Intel® P55 Express
Supports Intel® Turbo Boost Technology
Memory
4 x DIMM, max. 16GB, DDR3 2000/1800/1600/1333/1066MHz,
non-ECC, unbuffered memory
Dual channel memory architecture
Supports Intel® Extreme Memory Profile (XMP)
Expansion slots
2 x PCI Express 2.0 x16 slots (single at x16 or dual at x8/x8 mode)
3 x PCI Express 2.0 x1 (2.5GT/s)
2 x PCI
Multi-GPU
Supports both NVIDIA® Quad-GPU SLI™ Technology and ATI® Quad-GPU CrossFireX™ Technology
Storage
Intel® P55 Express Chipset
– 6 x SATA 3.0 Gb/s ports (black)
– Intel Matrix Storage Technology supports RAID 0, 1, 5 and 10
JMicron® JMB363 SATA & PATA controller:
– 1 x Ultra DMA 133/100/66 for up to 2 PATA devices
– 1 x External SATA 3Gb/s port (SATA On-the-Go)
JMicron® JMB322 (DriveXpert Technology) :
– 2 x SATA 3.0 Gb/s ports (orange and white )
– Supports EZ Backup and SuperSpeed functions
LAN
Realtek® 8112L PCIe Gigabit LAN controller featuring AI NET2
Audio
VIA® VT2020 10-channel High Definition Audio CODEC
– Absolute Pitch BD192/24 featuring ENVY HD
– DTS Surround Sensation UltraPC
– Supports Jack-Detection, Multi-streaming, Front Panel Jack-retasking
– Optical S/PDIF out port at back I/O
– ASUS Noise Filter
USB / IEEE1394a
14 x USB 2.0 ports (6 ports at mid-board, 8 ports at back panel)
VIA® 6308P controller supports 2 x IEEE 1394a ports (one at mid-board; one at back panel)
TUF Exclusive Features
Power Design
12-phase CPU Power, 2-phase Memory Power, 2-phase VTT_CPU Power, Efficient Switching Power Design for 3VSB/1.8V/1.05V, TUF Capacitors and MOSFETs (certified military-standard)
Thermal Solution
CeraM!X Heatsink Coating Tech, CoolMem! Fan Frame, T.Probe Technology, ASUS Fan Xpert,
Guardian feature
MemOK!, DriveXpert, ESD Guards, EMI Eliminator
Form Factor
ATX Form Factor, 12 inches x 9.6 inches ( 30.5cm x 24.4cm )

Source: Asus