ASUS today unveiled its latest range of innovative graphics cards that address, fulfill and exceed the demands of every DIY PC enthusiast.
For those who seek exhilarating in-game graphics and massive overclocking potential without compromise, ASUS offers the Republic of Gamers (ROG) MARS, the fastest graphics card on earth. Armed with an unprecedented two NVIDIA® GeForce® GTX 285 GPUs and 4GB of onboard 1024-bit memory, the ROG MARS unleashes the full potential of both GPUs, enabling users to break benchmark world records with ease.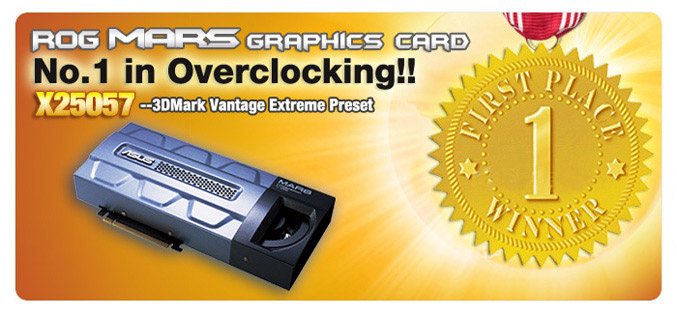 Users who seek to master every gaming situation with optimized hardware performance and customized settings, the ASUS ROG MATRIX GTX285 with the exclusive Super Hybrid Engine delivers optimal performance through real-time hardware loading detection with 5-level LED indicators and automatic adjustment. It also features the upgraded iTracker2 utility that offers the world's only memory timing tuning and VBIOS burn-in and recovery functionality—giving users the control they need to conquer the graphics requirements of the most demanding of games.
For users who rank cooling as important as graphics, the ASUS Formula Series presents the ideal balance. Inspired by Formula One racing cars, Formula Series graphics cards boast an aerodynamic design that leverages ASUS' proprietary micro surface technology and a special dust-proof fan to improve thermal efficiency by up to 33%—keeping the card cool even during graphically intensive tasks.
For discerning individuals who desire enhanced image quality, the remarkably energy efficient ASUS Bravo 9500 makes watching movies on the PC as good as watching them on a top-of-the-line consumer television. Featuring Splendid™ Plus technology, the Bravo 9500 features a light sensor that auto-adjusts image brightness to suit the surrounding light level, ensuring optimal clarity and comfort. The Bravo 9500 also comes with Bravo Media Center which allows users to access their media collections via a bundled remote control.
ASUS ROG MARS: Limited Edition. Unlimited Power.
The World's Fastest Graphics Card with 23% Performance Boost!
Harnessing exclusive ROG features to unleash the power of NVIDIA® GeForce® GPUs, the ASUS ROG MARS is currently the fastest graphics card in the world. Dual NVIDIA® GeForce® GTX 285 GPUs, an awe-inspiring 4GB of onboard memory and the world's first 1024-bit memory bandwidth work seamlessly with cutting-edge technologies from NVIDIA such as Quad SLI® and PhysX® to deliver astronomical graphics. With its expert integration of ROG and NVIDIA technologies, the ROG MARS yields an astounding 23% improvement in terms of single card performance when compared to reference designed boards, setting eye-popping 3DMark Vantage Extreme, High and Performance Preset scores of X25949, H34711 and P40824 respectively with Quad SLI®—cementing the perfect partnership between ASUS and NVIDIA. The FPS (Frames Per Second) of the ASUS ROG MARS is 28 versus the 16 of a reference design board when running Crysis Warhead at 2560×1600 Very High Resolution. The ROG MARS increases its performance by 75% to allow users to fully enjoy games without lag or stuttering—even at the highest resolutions and maximum quality settings. The ROG MARS features an improved thermal design that increases heatpipe coverage by 65%—as well as the heat dissipation rate by 20%—to ensure cooling even during graphically intensive operations.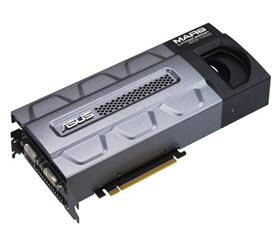 The ROG MARS will only be available as a limited edition. Just 1,000 units will be produced, with each graphics card assigned a unique serial number—making the ASUS ROG MARS a true masterpiece of power and performance.
Specifications
ASUS ROG MARS/2DI/4GD3
Graphics Engine
NVIDIA® GeForce® GTX 285 x 2
Bus Standard
PCI Express 2.0
Video Memory
4GB DDR3 (2GB x 2)
Engine Clock
648MHz
Shader Clock
1476MHz
Memory Interface
2.304GHz (1.152GHz DDR3)
DVI Max. Resolution
1024-bit (512-bit x 2)
D-sub Output
2560 x 1600
DVI Output
Yes x 1 (via DVI to D-Sub adapter x 1)
HDCP Compliant
Yes x 2 (DVI-I)
HDMI Output
Yes
Adapter Cable Bundled
Yes, Native
Software Bundled
1 x DVI-to-D-Sub adapter
1 x Power cable
ASUS ROG MATRIX GTX285: "I Rule My Game!"
Exclusive iTracker2 Provides World's Only Memory Timing Tuning and VBIOS Burn-in Functionality.
The latest ASUS ROG MATRIX GTX285 graphics card comes equipped with the Super Hybrid Engine for automatic hardware load monitoring and adjustments, delivering 15%* lower GPU noise and increasing overclocking stability for up to a 14% increase in performance. A 5-level LED hardware indicator allows users to keep track of the loading of the GPU. One of the highlights of the ROG MATRIX GTX285 is the new iTracker2, which retains its predecessor's robust hardware monitoring capabilities and five scenario GUI modes, but now also features exclusive memory timing settings, VBIOS burning and a recovery application to provide gamers with advanced control of their graphics card. With a simple click of the Safe Mode button, users can now boot their systems in safe mode even when the VBIOS has crashed, and iTracker2 will automatically recover the VBIOS. Keeping the ROG MATRIX GTX285 cool is the Extreme Cooler, which intelligently makes timely fan speed adjustments according to GPU loading, and comes with 46.5%* more heatpipe coverage—increasing heat dissipation efficiency by 12%.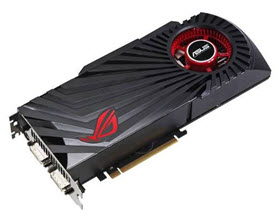 Specifications
ASUS ROG MATRIX GTX285/HTDI/1GD3
Graphics Engine
NVIDIA® GeForce® GTX 285
Bus Standard
PCI Express 2.0
Video Memory
1GB DDR3
Engine Clock
662MHz (Gamer Mode 669MHZ)
Shader Clock
1476MHz (Gamer Mode 1512MHz)
Memory Interface
2.484GHz (1.242GHz GDDR3)
DVI Max. Resolution
512-bit
D-sub Output
2560 x 1600
DVI Output
Yes x 1 (via DVI to D-Sub adapter x 1)
HDCP Compliant
Yes x 2 (DVI-I)
HDMI Output
Yes, via HDTV Out cable
Adapter Cable Bundled
Yes
Software Bundled
Yes, via DVI to HDMI adapter

ASUS Formula Series: Designed with Passion. Engineered to Dominate. Crafted to Win.
Take the Checkered Flag with 33% Better Cooling Power!
The ASUS Formula Series graphics cards come with built-in double cooling solutions to cope with the demands of high performance gaming. They increase overall heat dissipation efficiency by up to a whopping 33% in comparison to reference design boards*. On top of this unprecedented cooling capacity, Formula Series cards are also up to 12.4dB quieter than cards with generically designed fansinks—a 30% improvement—rendering them perfect for users who require maximum cooling without excessive fan rotation noise.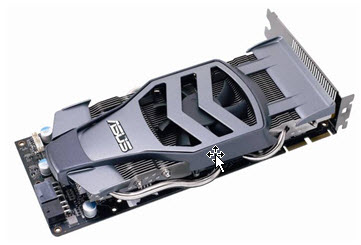 Taking its inspiration from the pinnacle of motorsport, the Formula Series incorporates design elements from the streamlined body of a Formula One racing car, relying on aerodynamic principles to increase airflow volume by 7% and to draw heat away from the GPU and other components. A heatsink boasting ASUS' proprietary Micro Surface Treatment improves heat dissipation by up to 14%, while a fan sporting a unique dust-proof design provides cooling for up to 10,000 hours longer than conventional fans. The cumulative effect is an improvement in heat dissipation efficiency by up to 33% as compared to reference design boards—propelling ASUS to the pole position in the graphics card cooling race. Cards in the Formula Series include the ASUS EAH4890 FORMULA/HTDI/1GD5 and EAH4770 FORMULA/DI/512MD5.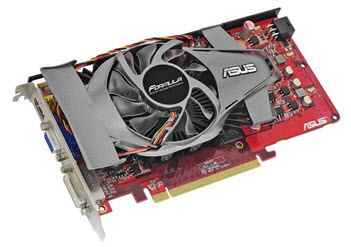 Specifications
| | | |
| --- | --- | --- |
| Model | EAH4890 FORMULA/HTDI/1GD5 | EAH4770 FORMULA/DI/512MD5 |
| Graphics Engine | ATI Radeon™ HD 4890 | ATI Radeon™ HD 4770 |
| Video Memory | 1GB GDDR5 | 512MB GDDR5 |
| Engine Clock | 900MHz | 750MHz |
| Memory Clock | 3.9GHz (975MHz GDDR5) | 3.2GHz (800MHz GDDR5) |
| Memory Interface | 256-bit | 128-bit |
| DVI Max. Resolution | 2560 x 1600 | 2560 x 1600 |
| Bus Standard | PCI Express® 2.0 | PCI Express® 2.0 |
| DVI Output | DVI-I (Dual Link) x 2 | DVI-I (Dual Link) |
| HDCP Compliant | Yes | Yes |
| HDTV Output | Yes | – |
| HDMI Out | Yes (via adapter) | Yes, native |
| D-Sub Output | Yes (via adapter) | Yes |
| Software Bundled | ASUS utilities and drivers | ASUS utilities and drivers |
ASUS Bravo 9500: Experience Visual Enjoyment in a New Light
Splendid™ Plus Optimizes Image Quality According to Surroundings for Perfect Multimedia Entertainment.
The ASUS Bravo 9500 is the first graphics card to feature Splendid™ Plus, an enhanced iteration of ASUS' exclusive Splendid™ Video Intelligence Technology. Splendid™ Plus technology utilizes a bundled Light Sensor to detect ambient light levels in a room, and automatically adjusts screen brightness to match the detected lighting conditions—ensuring optimal visual comfort and accurately-reproduced colors. Four default profiles are available—Theater Mode, Gaming Mode, Picture Mode, and Auto Mode—each easily selectable with a single click. The Bravo 9500 is remarkably energy efficient thanks to its improved power design. In 2D mode, the Bravo 9500's power efficiency is 92%, an amazing 28% improvement over that of generic GeForce® 9500GT cards. This results in less heat generated, and a significantly reduced probability of abnormal heat-induced events occurring.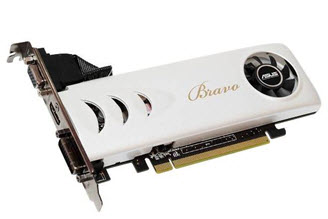 The Bravo 9500 also comes with Bravo Media Center, a versatile entertainment center that allows users to enjoy their movie, video, music and photo collections via a remote control and through a single, easy-to-use interface. In addition, the Bravo 9500 is bundled with a trial version of MediaShow Espresso that enables hassle-free, NVIDIA® CUDA™-accelerated conversion of all videos for playback on the iPhone, PSP, Xbox, YouTube and more. Bravo 9500 users will enjoy an exclusive US$12 discount when upgrading to the full version.
Specifications
Bravo 9500/DI/512MD2
Graphics Engine
NVIDIA® GeForce® 9500GT
Video Memory
512MB DDR2
Engine Clock
550MHz
Shader Clock
1400MHz
Memory Clock
800MHz (400MHz DDR2)
Memory Interface
128-bit
DVI Max. Resolution
2560 x 1600
Bus Standard
PCI Express 2.0
DVI Output
DVI-I
HDCP Compliant
Yes
HDMI Output
Yes **
D-Sub Output
Yes
Hardware Bundled
S/PDIF Cable
Light sensor
Remote control
Low profile bracket bundled
Software Bundled
ASUS utilities and drivers

Source: Asus