AMD is releasing a trio of dualcore desktop processors based on the K10 architecture, under the Athlon X2 7000 series. The trio consists of the overclocker-friendly 7750 Black Edition clocked at 2.70 GHz, the 7550 at 2.50 GHz and the 7450 at 2.40 GHz.
The core, codenamed "Kuma" sports a basic cache design similar to the Phenom X3 and Phenom X4 processors, with 512 KB of L2 caches per core, and a shared L3 cache of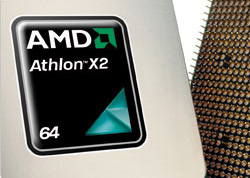 2 MB. The updated memory controller provides native support to the PC2-8500 (DDR2 1066 MHz) memory standard. The processor now sports a HyperTransport 3.0 3600 MT/s system interface. These, apart from the other tweaks AMD introduced with the K10 architecture give it an edge over current K8 based dual core AMD chips. The core is manufactured in the 65nm node.

AMD lifted the NDA over the Athlon X2 7000 series, following which several website posted reviews on the processors. Most of these reviews covered the Athlon X2 7750 Black Edition. The chip clocked at 2.7 GHz was found to be around 15% faster than a previous-generation Brisbane chip running at the same frequency, according to X-bit Labs, whose evaluation included several synthetic and real-world benchmarks. The same review team was able to overclock the chip to 3.30 GHz (+22 %) aided by a Zalman 9700 air cooler. The Athlon X2 7750 Black Edition will be priced at US $79. Links to some of the reviews are provided below.

Bit-Tech | Hexus | HT4U | Overclockers Club | Planet 3DNow! | Tweaktown | X-bit Labs


Source: TechPowerUp!