Cisco and Dell today announced that they will collaborate to deliver next-generation IT solutions that help customers simplify their data center infrastructure by pooling storage, computing and networking infrastructure resources to more rapidly support business applications in virtual data center environments.
The companies expanded their existing global Solution Technology Integrator agreement to include Cisco's Nexus 5020 data center switching systems as part of the Dell enterprise infrastructure solutions with Dell servers and storage solutions.
According to the agreement, Dell will add Cisco's Nexus 5020 switches that support both 10 Gigabit Ethernet and Fibre Channel over Ethernet (FCoE) to its Dell PowerEdge™ server and Dell EqualLogic™, PowerVault™, and Dell/EMC™ storage solutions. The Cisco and Dell combined solutions help customers simplify the management of their next-generation data center with a unified networking fabric that consolidates LAN, SAN and server cluster network environments into a single high speed 10 Gigabit Ethernet fabric that supports protocols such as Fibre Channel, FCoE, and Internet Small Computer Storage Interface (iSCSI).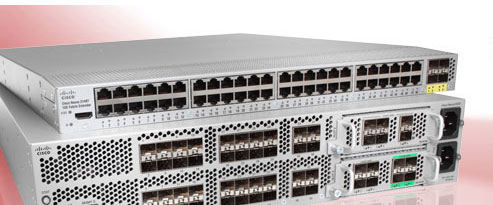 In addition, Dell has qualified the Catalyst 4900 Top-of-Rack Switches (ToR) for its EqualLogic™ Storage Area Networks (SAN) arrays. The Catalyst 4900 ToR switches are now a supported switching platform for the EqualLogic™ SAN arrays.
"These challenging economic times highlight the importance our customers place on ensuring long term value from their solutions, not just short term benefit. They need maximum value for every dollar they spend and that is what Dell continues to deliver with this expanded Cisco relationship," said Praveen Asthana, global director of enterprise storage and networking, Dell. "By offering the Cisco data center switching solution with our server and storage solutions, customers can now more easily transition to a unified network fabric and meet their requirements for operational continuity, transport flexibility and scalability. The Dell and Cisco offerings will be very exciting for our customer and partner communities."
"As part of our unified computing approach, Cisco set out to develop a unified networking fabric for the data center to help IT organizations simplify their cabling infrastructure, reduce the number of required adapters, lower costs, and reduce power consumption and their carbon footprint within their data center," said Soni Jiandani, vice president of the Marketing, Server Access and Virtualization business unit for Cisco. "By combining the benefits of lossless 10 Gigabit Ethernet and Fibre Channel over Ethernet with Dell's PowerEdge servers and storage solutions, together we can offer a more end-to-end data center virtualization solution."

Source: Press Release