Corsair Memory, a manufacturer of high performance memory modules for enthusiasts and hardcore gamers has announced the market availability of new Vengeance memory modules, designed specifically for notebooks.

"As more complex applications and games are available in the market, many laptop users are looking for an easy way to improve their system performance in order to have the best experience. Our new Vengeance high-performance laptop memory kits allow performance-minded customers to boost their memory performance and capacity in an instant," said Thi La, vice president of memory products at Corsair.
The modules, which target notebooks based on 2nd Generation Intel Core i5 or Core i7 processors, are said to improve the performance of high-end laptops designed for gamers or demanding applications. The new laptop memory operates at 1600 and 1866 MHz depending on the model and is designed to to work with any PC or notebook which accepts standard DDR3 SODIMMs. In addition the new Vengeance series is backward compatible with notebooks and laptops which use first-generation Intel Core i5 and Core i7 processors. Even on older notebooks, customers can still take advantage of the ability to upgrade to 8GB of memory using only two memory slots, and enjoy the confidence of Corsair's renowned service and support.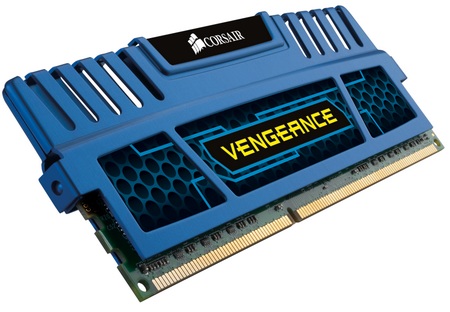 The new memory is available with the following specifications at the following recommended prices:
Vengeance 4GB: 1866MHz, CL10 10-10-27, 1.5V (CMSX4GX3M1A11866C10) – $39.99

Vengeance 8GB: 1600MHz, CL9 9-9-24, 1.5V (CMSX8GX3M2A1600C9) – 74.99

Vengeance 8GB: 1866MHz, CL10 10-10-27, 1.5V (CMSX8GX3M2A1866C10) – 149.99
The new Corsair Vengeance high-performance notebook memory upgrade kits are available immediately from Corsair's worldwide network of resellers and distributors.
Source: Corsair