Corsair, a worldwide leader in high performance computer and flash memory products, today announced that the 6GB Dominator GT 2000MHz CAS 8 has passed Intel's XMP-Ready certification for Core i7 Extreme Edition processors, making it the fastest memory kit to gain Intel's stamp of approval.
The 6GB Dominator GT 2000MHz CAS 8 (TR3X6G2000C8GTF) is part of Corsair's award-winning Dominator GT line of hand-screened, hand-tuned, extreme performance DDR3 memory for Core i7 platforms. It is qualified and guaranteed to run at a frequency of 2000MHz with tight timings of 8-8-8-24 at a voltage of 1.65V. The platform used for the Intel qualification was an Asus P6T Deluxe.
"Corsair continues to push the memory speed envelope with the Dominator GT line," said Jim Carlton, VP of Marketing at Corsair. "TR3X6G2000C8GTF is the highest performing DDR3 product currently offered through the Corsair reseller channel, and with its unique status as the fastest XMP-certified memory available, it is destined to become the high performance memory of choice for enthusiasts using the Core i7 platform."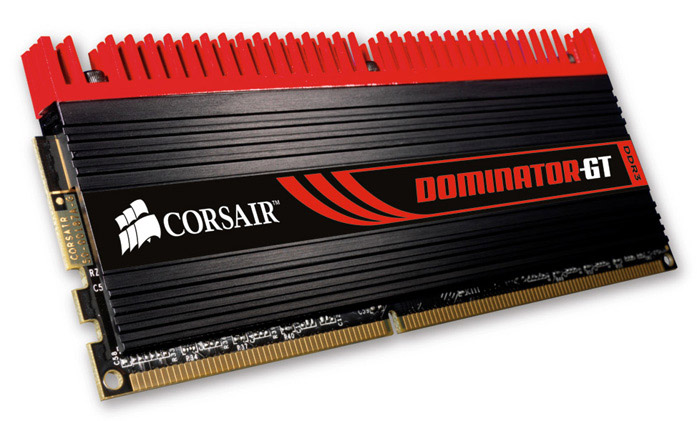 "Corsair has been a strong contributor to the effort to support the Intel XMP specification," said Steve Peterson, Director of Chipset Marketing for Intel's Business Client Group, "This qualification is a landmark for Corsair, solidifying their position as a leading supplier of high end XMP qualified solutions for the Intel CoreTM i7 processor Extreme Edition."
All Corsair Dominator GT modules are built using the patent-pending DHX+ (Dual-path Heat eXchange) heatsink, which uniquely cools both the front and back of the memory ICs, and the printed circuit board, for greater reliability and increased overclocking flexibility. DHX+ modules also utilize removable heatsink fins, which allows for range of Dominator GT cooling options, including the Corsair CoolingTM Hydro Series H30 waterblock and Ice Series T30 thermo-electric cooler, which actively cools the modules up to 20°C below ambient temperature for maximum overclockability.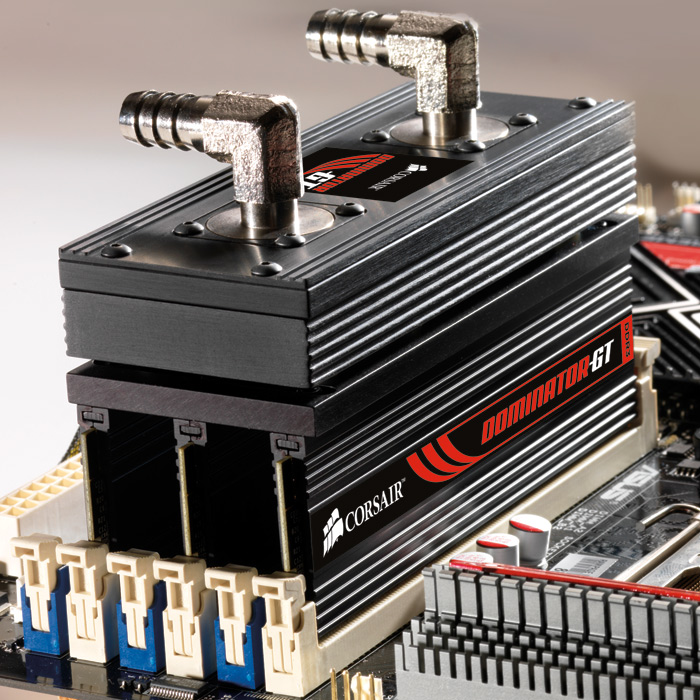 All Dominator GT products also ship with the Corsair Airflow fan as standard, which maximizes airflow over the module's cooling fins, increasing heat dissipation to improve memory performance and reliability.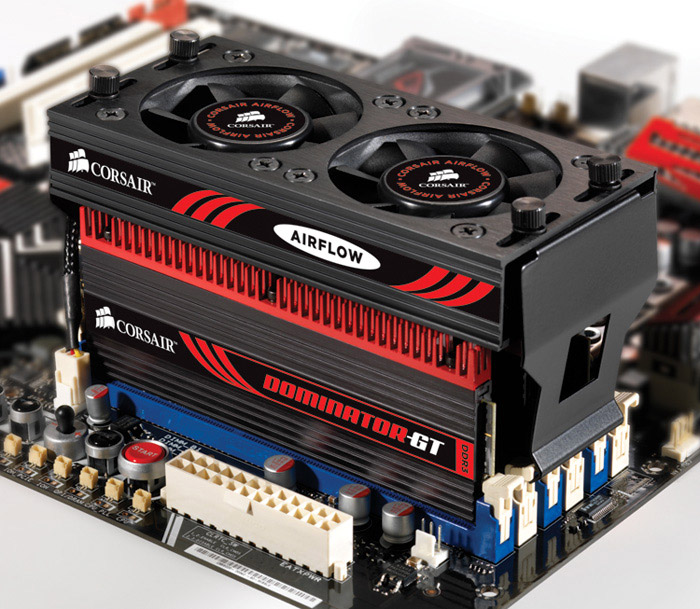 The Corsair TR3X6G2000C8GTF Dominator GT with Airflow fan is available immediately through Corsair's world-wide authorized dealer channel, and from Corsair' Online Store, and is backed by a lifetime warranty and comprehensive customer support via telephone, email, forum and the Tech Support Express helpdesk.
The list of Intel XMP-certified memory products can be found here.
Source: Corsair