Pandigital debuts today the next generation wireless digital photo frame entitled, the Pandigital Photo Mail Digital Photo Frame, which has the ability to accept emailed photos. The digital frame is expected to be released in the fourth quarter of this year.
"With the Pandigital Photo Mail Digital Photo Frame, it's unbelievably simple and affordable to share and enjoy digital images via email to a digital photo frame," said Dean Finnegan, CEO and founder, Pandigital. "Consumers in Europe are also interested in streamlining the way their devices work with each other – and the Pandigital Photo Mail frame is an excellent example of how devices can improve our lives."
Each digital frame is very easy to use and has its own dedicated email address which can be shared with family members, so that they can send digital photos directly to the device. When a digital photo is received, the consumer can accept it and view it immediately. Consumers are also able to transfer digital photos to over thirty-two countries in Europe, without roaming charges, provided by KPN.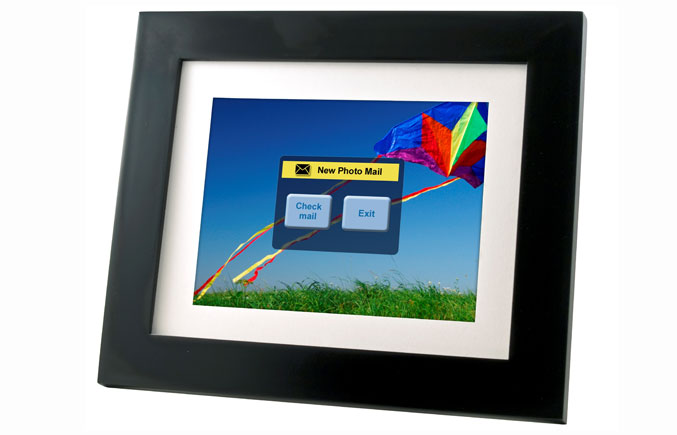 "Pandigital's Photo Mail Digital Photo Frame ushers in a new era of how consumers will share and enjoy digital images," said Kim Bybjerg, Managing Director of KPN, The Netherlands. "Delivering photos to this frame is as easy as sending an email. Paired with KPN's network, photo sharing becomes a very connected and convenient way to stay close to friends and family."
The Mail Digital Photo Frame by Pandigital comes equipped with an eight inch LED back-lit display which has a resolution of 800 x 600 pixels, producing crisp and clear photos. Digital photos preserve their original format thanks to the 4:3 aspect ratio, and the 1GB of internal memory allows the storage of more than six thousand images. The device also features a six-in-one media card reader that supports Compact Flash, SC, XD, MS, MSPro and MMC, and also features direct connection to a computer or a digital camera. The frame also has the ability to playback AVI video clips and MP3 music files, and also rotate, resize and change the color settings on the digital images.
Features like clock, calendar and alarm functions are also packed in the digital photo frame.
The Pandigital Photo Mail Digital Photo Frame has a price tag of 169 Euros.