eMachines  introduced a redesigned small form factor desktop PC with matching monitor design. The EL1300 Series offers powerful performance combined with user-friendly features and a shiny, bright, all-white design, accented with green LED lighting. The new widescreen monitor compliments the all-white PC with similar styling and offer consumers excellent high-definition picture quality and innovative technology.
With its second generation small form factor desktop, the EL1300 Series, eMachines brings style and elegance to this tiny little powerhouse. Just one-third the size of traditional desktop PCs, these super compact systems rival mainstream desktops in capabilities and functionality.
"Alternative color choices have been making their way into notebook lines for some time now," said Glenn Jystad, senior manager, desktop products, eMachines. "With the arrival of spring and summer, it's the perfect time to introduce a fresh, clean alternative color choice to our desktops and monitors, bringing an exciting new look and feel to desktop PCs."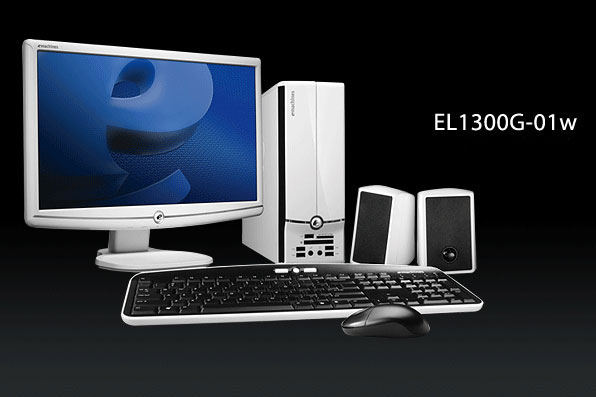 Sporting a bright white glossy finish, eMachines brings a "smile" to customers, via a subtly swooping green LED and silver branding design, which can be found on the desktop cases and displays.
"The amount of thought and effort put into the aesthetics and new design features of the new desktops and monitors is significant," said Jystad. "The price and capabilities are right on target, and the sleek ultra-modern design offers more style than many PCs costing twice as much."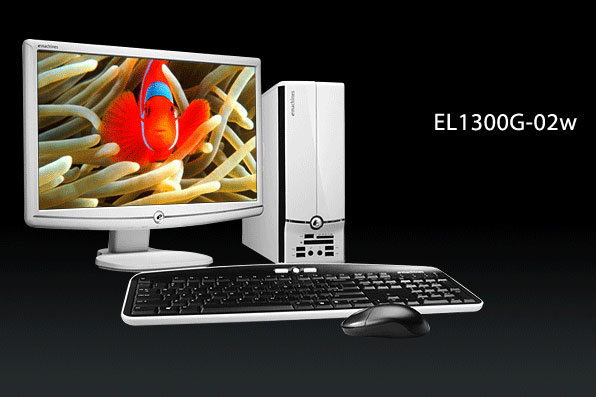 The Mini eMachines EL1300 Series is Big on Savings and Capabilities
Available this month, the small form factor eMachines EL1300 Series is currently available in two models, the $298 EL1300G-01w and the $398 EL1300G-02w, which includes a 20-inch widescreen LCD.
Small and light enough to fit just about anywhere, the EL1300 mini PC is perfect for students or general home use. Just 10.7 inches tall, 4.2 inches wide and 15 inches in length, its convenient space-saving design allows it to fit easily in a cramped dorm room or small kitchen without taking up valuable desk or counter space, and its fresh new look will complement any room's décor.
The new design also includes user-friendly touches, such as easy access front ports and room for upgrades, such as a wireless network or TV tuner.
Equipped with an AMD Athlon processor, NVIDIA GeForce graphics and a roomy 160GB(1) hard drive, the EL1300 Series delivers the performance needed to surf the Internet, download photos, stream videos, or manage a music library. Powerful capabilities and rich graphics make it more than capable of handling graphic-rich applications, whether it's photo heavy multimedia applications, casual gaming or graphic-intensive school or work projects.
The new eMachines E182H wm 18.5-inch widescreen LCD features technology that improves productivity and enhances any viewing experience. The new space-saving design offers both style and functionality. The shiny, bright, all-white display matches the new eMachines desktops, enhancing the look of any home or office, while the widescreen design allows users to view more content or multiple documents.
Offering an excellent visual experience, this new display features 720p high-definition support and a 1366×768 resolution. Users can enjoy the crisp picture quality with a 10,000:1 contrast ratio and fast 5ms response time for viewing quick action movie images. Additionally the 300 cd/m2 brightness further improves the visual performance.
The eMachines E182H wm includes a VGA input for appealing visual quality and is VESA compatible for multiple mounting options, whether on a desk or on the wall. To boost the visual experience of movies and games, the eMachines E182H wm also includes two integrated audio speakers.
Models / Specs / Pricing
eMachines EL1300G-01w Small Form Factor Desktop PC
* AMD AthlonTM 2650e (1.6GHz, 512KB L2 cache)
* NVIDIA® GeForce® 6150SE integrated graphics
* 2GB DDR2 memory
* 160GB SATA (7200 RPM) hard drive (1)
* 18x DVD+/-R/RW SuperMulti Drive featuring LabelflashTM Technology (2)
* Multi-in-one digital media card reader
* Microsoft® Vista Home Basic
* 9 USB 2.0 ports (5 front / 4 rear)
* USB powered stereo speakers
* PS/2 multi-function keyboard
* Energy Star® compliant
* $298 MSRP
eMachines EL1300G-02w Small Form Factor Desktop PC
* AMD AthlonTM 2650e Processor (1.6GHz, 512KB L2 cache)
* NVIDIA® GeForce® 6150SE integrated graphics
* 1GB DDR2 memory
* 160GB SATA II (7200 RPM) hard drive (1)
* 18x DVD+/-R/RW SuperMulti Drive featuring LabelflashTM Technology (2)
* Multi-in-one digital media card reader
* Microsoft® Windows XP Home with SP3
* 9 USB 2.0 ports (5 front / 4 rear)
* White 20-inch widescreen LCD with built-in speakers (eMachines E202H wmd)
* PS/2 multi-function keyboard
* Energy Star compliant
* $398 MSRP
eMachines E182H wm Display:
* 18.5″ widescreen viewable TFT active matrix
* 16:9 aspect ratio
* 1366×768 (HD ready) resolution
* CrystalBrite
* Inputs: 1xVGA
* 5 ms response time
* 300 cd/m2 brightness
* 10000:1 (dynamic) contrast ratio
* 170(H) / 160(V) viewing angle
* 16.7M color depth
* Built-in stereo speakers
* 720P HD ready via DVI with HDCP
* Energy Star compliant
* Vista Premium certified
* $119 MSRP
Source: eMachines