High-style no longer comes with a high price tag thanks to the new eMachines all-in-one PC. For just $399.99, the eMachines EZ1601-01 is a great addition to any room, addressing a family's basic computing needs in an affordable, elegant space-saving design.
Sleek and stylish, the eMachines EZ Series fits perfectly in a kitchen or on a small desk in the family room. An ideal digital media hub, it can help mom and dad manage the household, keeping everybody up-to-date and in touch with convenient access to the Internet, online recipes, email, family calendars and address books.
Just as viable as an entertainment center, families can keep their favorite movies, music, photos and videos in one spot, where everyone can enjoy them together. Young children can surf the Internet, play online games and do homework while sitting in the kitchen or den with the rest of the family.

Its low cost and small size also make it a great choice as a child's first computer or for use in a student's cramped dorm room.
"The eMachines EZ1601-01 all-in-one PC proves style doesn't have to come at a price premium," said Glenn Jystad, senior manager, desktop products for eMachines. "It also shows that capabilities and functionality don't have to be sacrificed at the expense of great design."
On sale now, the eMachines EZ1601-01 is available in Diamond Black, and is accented with green LED lighting and silver trim. Designed to be as thin as possible while keeping costs low, the EZ1601-01 resembles a high-tech photo frame. A matching keyboard and mouse complement the PC.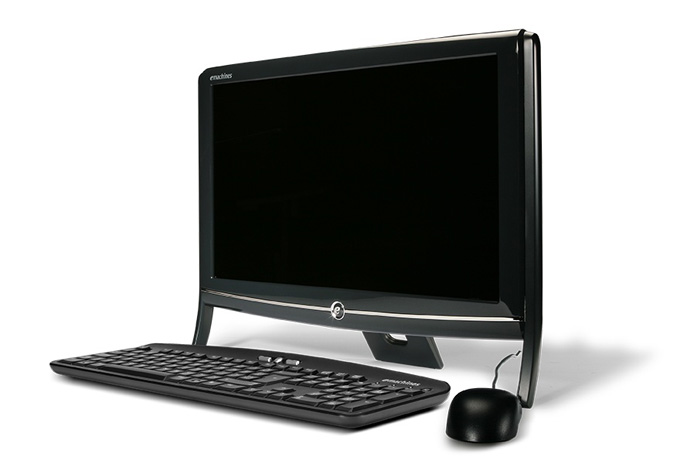 Easy to set up and use, the eMachines EZ includes everything necessary to get up and running quickly, including Windows XP, a tilt-able high-definition 18.5-inch widescreen LCD with integrated speakers, and matching keyboard and mouse. Built-in 802.11b/g wireless allows for quick, cable-less connection to the Internet with minimum hassle.
The eMachines EZ's brilliant display delivers a premium viewing experience with its 16×9 aspect ratio and 1366×768 resolution, making it great for watching movies. Combined with the integrated speakers and embedded high-definition audio support, it's an ideal PC for DVDs or online entertainment, such as YouTube™ videos.
The eMachines EZ also includes everything needed to organize, create and share digital data easily. Using the Multi-in-1 Digital Media Card Reader, consumers can quickly transfer photos, videos music and files from cameras, camcorders and other peripherals directly to the PC. Conveniently located on the right side of the display, the Super Multi Double-Layer drive makes it easy to watch movies or burn home DVDs and CDs of favorite, digital photos, movies or music.
Featuring an energy efficient Intel® Atom ultra-low voltage processor and fan-less design, the Energy Star® qualified eMachines EZ is cool and quiet.
Models / Specs / Pricing
eMachines EZ1601-01 All-in-One Desktop
$399.99 (MSRP)
Microsoft® Windows® XP Home
Intel® Atom™ Processor N270 (1.6GHz, 512KB L2 cache)
Intel® 945GSE Express Chipset
1GB DDR2, 533MHz memory
Integrated Intel® Graphics Media Accelerator 950
160GB SATA hard drive (1)
8x DVD+/-R/RW SuperMulti double layer drive
Multi-in-one digital media card reader
Integrated 802.11b/g Wireless
5 USB 2.0 ports (2 side, 3 rear)
Integrated 18.5-inch widescreen LCD with 16:9 aspect radio
Built in speakers
Embedded high-definition audio support
Keyboard and optical mouse
Source: eMachines