LaCie announced the release of the first USB 3.0 RAID Storage Solution entitled the LaCie 2big USB 3.0. In addition to that, they also announced the availability of their single-disk professional solution with incorporated USB 3.0 entitled the LaCie d2 USB 3.0.
The LaCie 2big USB 3.0 is designed to provide highest possible performances and transfer speeds, up to 205 MB/s.
"We are proud to announce the first RAID storage solution to fully leverage the performance of the USB 3.0 interface," said Clement Barberis, Product Manager for LaCie's Professional Desktop Solutions department. "Developed for users that require sizeable data flow, such as print professionals, recording engineers, and video producers, the 2big USB 3.0 allows them to take advantage of high capacities while delivering industry-leading transfer speeds."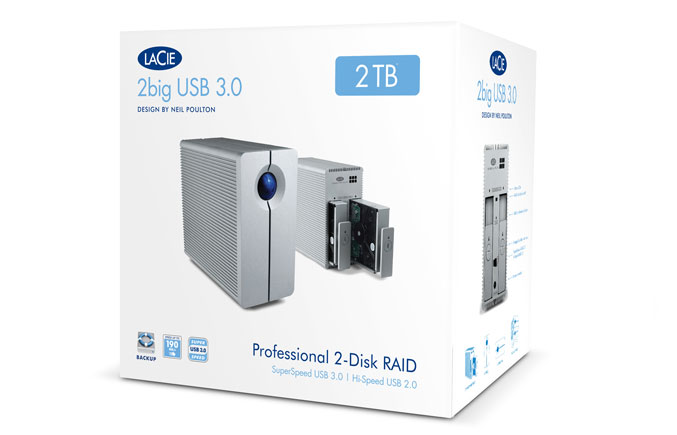 The LaCie 2big USB 3.0 is now available with up to 4TB capacity. A Blu-ray Disk can be transferred in less than five minutes (six times faster than USB 2.0.) The 2big USB 3.0 is also compatible with USB 2.0.
The 2big USB 3.0 by LaCie is equipped with two 7200 rpm hot-swappable hard disks with three RAID modes including Fast Mode, Safe Mode and JBOD Mode.
The LaCie 2big USB 3.0 comes in 4TB with a three year warranty starting at $349.99.