EDGE Tech Corp released its new line of 2.5-inch Solid State Drives (SSD) in 64GB and 128GB capacities—256GB is coming soon.
EDGE Tech Corp president and CEO, Jeff Thompson, said, "We're pleased to introduce EDGE's SSDs to the market. Our fully featured line, complete with upgrade kit, offers numerous operating system benefits as well as a fully functioning extra backup external hard drive."
The new line  of 2.5″ notebook or netbook hard drives, EDGE SSDs has write speeds of up to 240MB/s and 170MB/s, respectively and the company claims that their ssds  have longer notebook/netbook battery life, lower heat emission, and silent operation. EDGE SSDs also support S.M.A.R.T. (Self-Monitoring, Analysis, and Reporting Technology), which warns users of pending drive failure.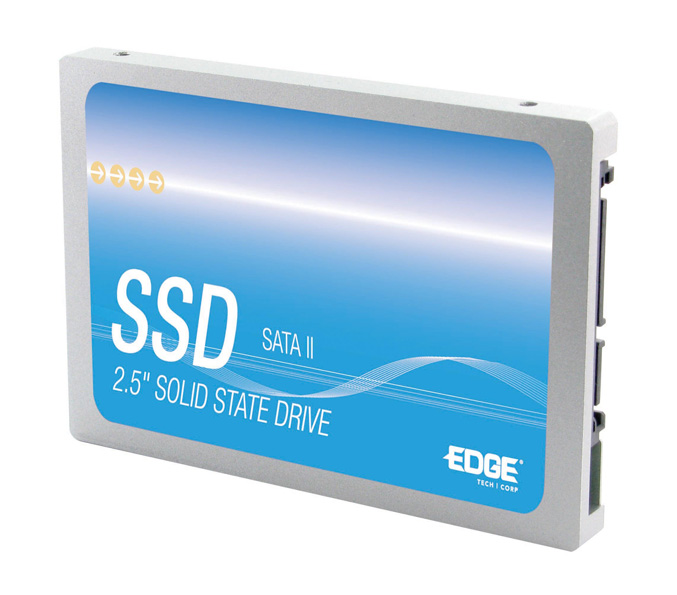 EDGE SSDs work in any computer (PC or Mac) or device (notebook, netbook, desktop, media center, etc.) with a SATA interface.
"The EDGE SSD includes a complete upgrade kit, created for ease in upgrading to an SSD. Using a simple on-screen wizard, users can "clone" their existing system to the EDGE SSD. After the clone is complete, the old hard drive can be swapped with the SSD and the user can resume working normally—no operating system or software reinstallation is necessary. The original hard drive then can be used with the supplied USB enclosure to serve as an external portable backup hard drive. The drives are offered with a three-year warranty."
| | | |
| --- | --- | --- |
| TECH SPECS | | |
| | | |
| Capacities: | | 64GB, 128GB (256GB coming soon) |
| Cache: | | 64MB |
| Form Factor: | | 2.5″ |
| Interface: | | SATA II (22 Pin, backward compatible to SATA I) |
| Read Speed: | | 200MB/s (64GB), 240MB/s (128GB/256GB) |
| Write Speed: | | 140MB/s (64GB), 170MB/s (128GB/256GB) |
| Size: | | 3.94″ (L) x 2.73″ (W) x 0.38″ (H) –2.5″ hard drives replacement |
| Weight: | | 0.2 lbs |
| SSD Compatibility: | | Any device with a SATA interface |
| Software: | | True Image HD (Windows 2000+), SuperDuper! (OS X+) |
| NAND Flash: | | MLC |
| Operating Temp: | | 0°C – 70°C |
| MTBF: | | 5,000,000 hours |
| Read/Write Life: | | 3,000,000 hours |
| Power Source: | | DV + 5.0V |
| Power Consumption: | | Idle: 0.3W; Operating: 0.5W |
| Vibration Resistance: | | 15G (operational) |
| Shock Resistance: | | 1000G (non-operational) |
| Warranty: | | Three years |
| Support: | | Toll-free technical assistance |
| What's in the Box: | | EDGE SSD, SSD Upgrade Guide, SSD Upgrade CD, 2.5″ external enclosure, and screwdriver |

Source: Businesswire