The US company has announced a 10 TB flash drive that boasts an impressive memory bandwidth of 6.7 GB/sec.
The drive is built on 1.28 TB MLC Flash memory modules and is offered in a PCI Express x16 2.0 Double Wide form factor, which means that the drive consumes two standard PCIe slots. No more than two drives can be integrated in a standard 1U server for a total flash capacity of 20.48 TB.
According to specs the 10 TB ioDrive Octal delivers 1.3 million IOPS over a 6.7 GB/s bandwidth and runs on 64-bit versions of Windows XP, Vista, 7, Server 2003, Server 2008, RHEL 4/5/6, SLES 10/11, OEL v5, VMware ESX 4.0/4.1/ESXi 4.1, and Solaris 10 U8/U9 (x64).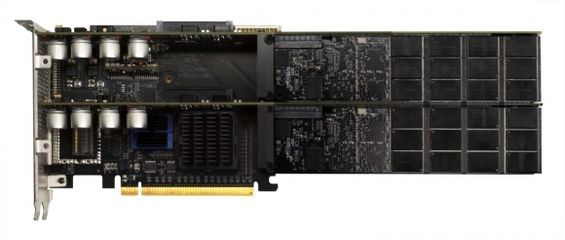 David Flynn, Fusion-io Chairman and CEO said "We believe that with the 10 TB ioDrive Octal, even highly data-intensive organizations can house increased amounts of data directly within the server to simultaneously accelerate their business and the efficiency of their data center."
Commercial availability is expected sometime in Q1 2012. Pricing is still unknown.
Source: Tomshardware