SILICON POWER, the leading flash memory manufacturer from Taiwan, today introduces the availability of its SDHC Class4 32GB card to its lineup of high-speed flash memory cards completely.
SDHC is the new generation of SD cards (Version 2.0) that can reach up to an enormous 32GB capacity. Silicon Power's SDHC Class4 32GB memory card provides mechanical write-protection switch; supports Content Protection for Recordable Media (CPRM) and it is lifetime warranty. In addition, Silicon Power's SDHC Class4 32GB memory card can store your MP3 music file, high-resolution photos, and video clips as well. Silicon Power's SDHC Class4 32GB memory card will definitely upgrade your high-quality digital life.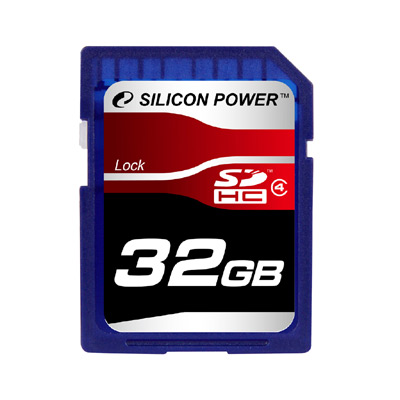 In accordance with the marketing trend, digital photography drives demand for higher capacity storage with ability to protect photos from loss. Silicon Power also releases a 133X 32GB CF card for customer's needs at the same time. Now Silicon Power not only provides with SDHC Class4 32GB capacity, but promotes 150X SDHC Class6 8GB memory card (read speed of 23.05MB/s and write speed of 18.56 MB/s) especially for high-resolution digital camera professionals. Silicon Power will fulfill all of the customer's demand and create a great experience in using Silicon Power's SDHC and CF series memory card.
Specification:
| | |
| --- | --- |
| Capacity | P/N |
| 32GB | SP032GBSDH004V10 |
| 16GB | SP016GBSDH004V10 |
| 8GB | SP008GBSDH004V10 |
| 4GB | SP004GBSDH004V10 |
SDHC Class4 compliant
SDHC (SD High-Capacity) is the new generation of SD cards (Version 2.0)
Supports Content Protection for Recordable Media (CPRM)
Security level complies with Secure Digital Music Initiative (SDMI)
Mechanical write-protection switch
Compliant with RoHS requirement
Dimensions:24 x 32 x 2.1mm
Weight:2g
Standardized-complies with the SD Card Association card specifications
Durability:10,000 insertions(minimum)
Power Requirement:2.7V~3.6V
Operating Temperature:-25oC~85 oC
Storage Temperature:-40 oC ~85 oC
Humidity:8%~95%
Lifetime Warranty
Source: Silicon Power