Super Talent Technology, a leading manufacturer of Flash storage solutions and DRAM memory modules, today began shipping a new line of IDE flash disk modules (FDMs), primarily developed for embedded computing applications, that deliver unmatched reliability and fast transfer speeds.
These FDMs, also known as disk on module (DOM), are made first and foremost for extreme reliability in embedded computing applications. They incorporate a standard IDE hard drive interface and use solid state NAND flash as the storage media.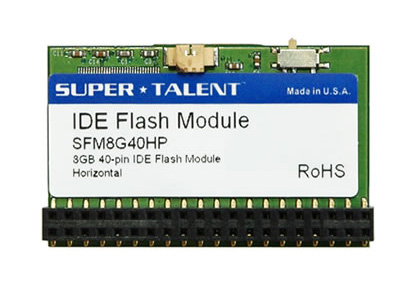 With no moving parts, these FDMs will have a very long worry-free usable life in harsh manufacturing environments where hard drives would not survive, such as areas exposed to high levels of dust, shock, vibration or extreme temperatures. Super Talent included wear leveling, ECC and bad bit management as standard features to further enhance reliability and endurance.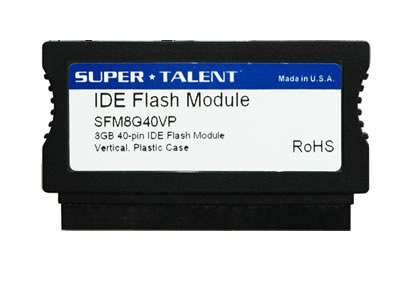 This line of FDMs supports sequential read speeds up to 80 MB/sec and sequential write speeds up to 60 MB/sec (SLC models) or up to 40 MB/sec (MLC products). The company offers different models using 40- and 44-pin female IDE connectors in both horizontal and vertical formats.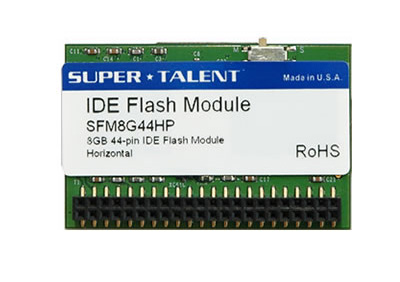 MLC NAND Flash

SLC NAND Flash

Description

SF8GB5F41 (8GB)
SF16B6F41 (16GB)
SF32B7F41 (32GB)

SF4GA4F41 (4GB)
SF8GA5F41 (8GB)
SF16A6F41 (16GB)

40-pin horizontal connector

SF8GB5F40 (8GB)
SF16B6F40 (16GB)
SF32B7F40 (32GB)

SF4GA4F40 (4GB)
SF8GA5F40 (8GB)
SF16A6F40 (16GB)

40-pin vertical connector

SF8GB5F45 (8GB)
SF16B6F45 (16GB)
SF32B7F45 (32GB)

SF4GA4F45 (4GB)
SF8GA5F45 (8GB)
SF16A6F45 (16GB)

44-pin horizontal connector

SF8GB5F44 (8GB)
SF16B6F44 (16GB)
SF32B7F44 (32GB)

SF4GA4F44 (4GB)
SF8GA5F44 (8GB)
SF16GA6F44 (16GB)

44-pin vertical connector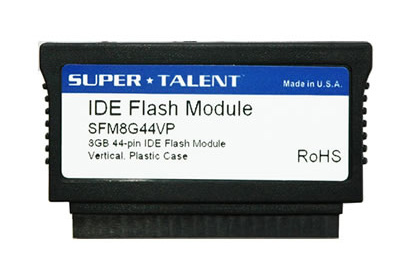 Super Talent Director of Marketing, Joe James remarked, "This new line of FDMs not only delivers the reliability needed for harsh manufacturing environments, it also has twice the performance of our first generation FDMs." These FDMs are available now.
Source: Super Talent