Super Talent Technology, a leading manufacturer of Flash storage solutions and DRAM memory modules,  announced the new co-branded UltraDrive DX SSDs that offer two levels of security to prevent unauthorized data theft or loss. Co-branded Toshiba, the new UltraDrive DX SSDs will be sold through Super Talent's North American retail and distribution channel starting this week.
As a first level of security the UltraDrive DX supports password protection with an encrypted password. This blocks malicious hackers from accessing the data stored on the SSD. As a second level of protection the DX incorporates new hardware data randomization technology. Data randomization happens automatically with every write to the drive to prevent unauthorized copying of blocks of data. Both encrypted password protection and data randomization are standard features that do not affect performance.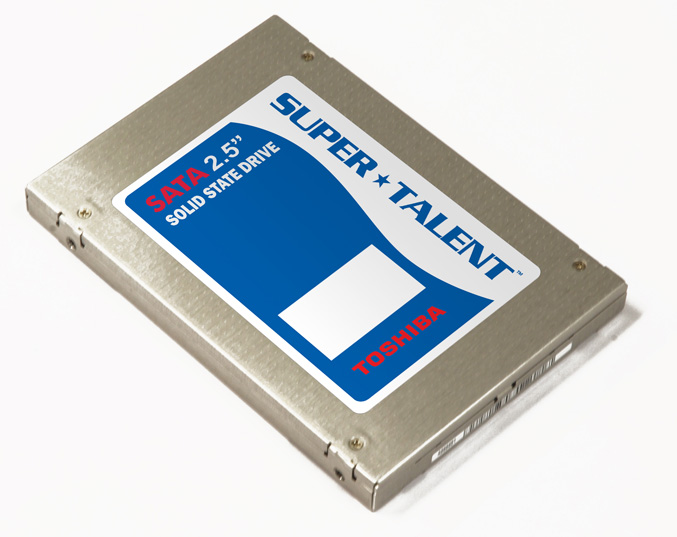 UltraDrive DX SSDs include sophisticated ECC and wear leveling algorithms for superior reliability and extended endurance. The DX has passed intensive testing with a gamut of hardware and software configurations to ensure unmatched reliability. While the DX was designed primarily for exceptional security and reliability, it is also surprisingly fast, and is specified to support sequential read speeds of up to 230 MB/sec and sequential write speeds of up to 180 MB/sec.
| | | |
| --- | --- | --- |
| Part Number | Description | Retail Price |
| FTM64DX25H | 64GB UltraDrive DX, MLC Flash | $219 |
| FTM128DX25H | 128GB UltraDrive DX, MLC Flash | $439 |
| FTM256DX25H | 256GB UltraDrive DX, MLC Flash | $719 |
| FTM512DX25H | 512GB UltraDrive DX, MLC Flash | $1649 |
"As the first Toshiba co-branded SSD on the market, UltraDrive DX features a Toshiba controller and Toshiba's MLC NAND flash memories.The DX provides best-in-class security and reliability features combined with cutting edge performance in both read and write speeds", explained Super Talent Director of Marketing, Joe James.
Source: Super Talent