Technology advances constantly! When the speed of USB2.0 can no longer fulfill the expanding demand of modern people, storage technology with faster speed, lower power consumption and greater convenience emerges out of consumer demands. Eyeing at the developmental potential of e-SATA, Team Group Inc launches the X092 USB disk Fire Shadow as its masterpiece for the year. A shining red and black appearance, this dual-color design inoculates the idea of fire and shadow. Equipped with the e-SATA and USB interfaces, Fire Shadow allows users to enjoy the ultrafast speed of e-SATA and the no-external-power-required convenience of USB devices all in one disk.
The X092 from Team is designed with the quadruple channel technology to evenly distribute data reading and writing task to four storage devices in order to effectively enhance the read-write speed. As the read-write speed of e-SATA is 110MB/s and 40MB/s respectively, i.e. triply faster than USB2.0, it takes only 42 seconds to copy a 4.5GB movie file, making it the dream option among all PnP storage devices. In addition to the 16GB and 32GB models, the X092 has the 64GB model tailored for power users, allowing them to download and store valuable data anywhere anytime. Therefore, the X092 is tailored for consumers demanding super capacity and super speed mobile storage in great convenience.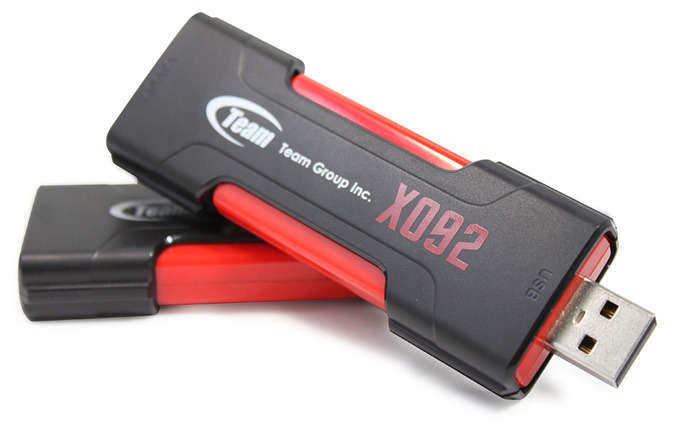 In addition to the RoHS-compliant power consumption design, the X092 is only 24 gram in weight to make it environmental, easy to use and easy to carry. Team X092 USB Disk supports multiple operating systems and is covered under a 2 years warranty. For more information on this product, please visit the Team Group website at: www.teamgroup.com.tw.
Team X092 Specification
Item
Specification
Model
X902
Capacity
16GB、32GB、64GB
Color

Black/ Red

Interface
Combo e-SATA/USB 2.0
Power source
DC 5V
Reading / Writing

e-SATA:Reading:110MB/Sec Max ; Writing: 40MB/Sec Max
USB 2.0:Reading:110MB/Sec Max ; Writing: 40MB/Sec Max

*Note: Speed may vary due to hardware , software and usage

Dimensions
82.5mm、31.5mm、6.7mm
Hot Plug
Yes
LED Reveal
No
Weight
24g
Storage time
>10Years
Other
Support battery saving mode
Warranty
2 years warranty
Source: Team Group