The rapid advances in computer processing technology has seen CPU and memory speeds outstrip that of conventional mechanical hard disks. This is why it is increasingly being replaced by newer Solid State Disk (SSD) technology. To meet the overclocking needs of high-level enthusiasts, Team Group Inc. has once again leveraged its extensive technical expertise to launch the all-new Xtreem SSD series. First in the series are the Xtreem G1 and Xtreem R-type. In addition to being quiet, light, energy-saving and shock resistant, the Extreem G1 and R-type pushes SSD read speeds to a breath-taking 260MB/sec and write speeds to a respectable 180Mb/sec. Compared to thick, heavy conventional 7200RPM HDDs with a read speed of just 80MB/sec and write speed of just 60MB/sec, Team's Xtreem SSD is a Ferrari that easily pushes the edges of the speed envelope.
Latest DRAM Cache Technology for Xtreem SSD G1
The Xtreem SSD G1 solid-state disk supports the latest DRAM Cache technology and uses 64MB of SDRAM Flash Memory to cache and sort the most frequently used data and digital files. This speeds up file access and allows even the most complicated instructions to be completed in an instant. With the SATA II interface, read speeds can reach up to 260MB/sec and write speeds up to 180MB/sec. This is ten times that of conventional HDDs and more than twice as fast as other SSD products now on the market, making every mouse click as responsive as the opening of the toolbar.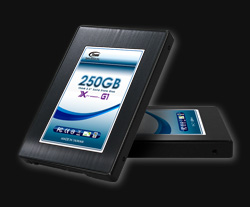 Fast and Stable RAID 0 technology with Xtreem SSD R-TYpe
The Xtreem SSD R-Type solid-state disk has a built-in RAID chip that delivers a massive boost to access speed and stability using "Redundant Array of Independent Disks" technology. With average read speeds of between 220MB/sec ~ 240MB/sec and write speeds of around 150MB/sec ~ 170MB/sec, it's like a cat among pigeons compared to all retail SSD specifications now available. For high-end business notebook users, it offers a perfect way to enhance every presentation.
Apart from fast transfer rates, the Xtreem SSD series also comes equipped with the standard Wear leveling and ECC features to make SSD the technology of choice for the next-generation of IT products. Three capacities are currently available for the Xtreem series: 60GB, 120GB and 250GB. For more information, please visit the Team Group website at www.teamgroup.com.tw.
Specification : Xtreem SSD G1
Item
Specification
Model
Xtreem-G1 SSD(S25AG1)
Interface
SATA II 22 Pin
Capacity
60GB、120GB、250GB
Transfer speed
60GB:
Read:210MB/S Max*
Write:145MB/S Max*
120GB/ 250GB:
Read:260MB/S Max*
Write:180MB/S Max*
*Note: Speed may vary due to host hardware, software and usage
Power source
DC + 5.0V ±5%
Power consumption
Operation:2.75W Max*
Feature
64MB Cache
Dimensions
100.2 × 69.85 × 9.5mm
Operating environment
Temp:0℃ ~ +70℃
Relative Humidity
5%~95%
Vibration test
15G
Impact test
1000G
MTBF
2,500,000 Hours
Read/ Write life
3,000,000 Hours
Warranty
2 years
Specification II: Xtreem SSD R-type
Item
Specification
Model
Xtreem-R (S25AR1)
Interface
SATA II 22 Pin
Capacity
60GB、120GB、250GB
Transfer speed
SATAII (By MLC)
Read: Up to 220~240MB/Sec *
Write: Up to 150~170MB/Sec *
*Note: Speed may vary due to host hardware, software and usage
Power source
DC + 5.0V ±5%
Power consumption
Operation:3.5W Max*
Feature
Inbuilt RAID0
Dimensions
100.2 × 69.85 × 9.5mm
Operating environment
Temp:0℃ ~ +70℃
Relative Humidity
5%~95%
Vibration test
15G
Impact test
1000G
MTBF
2,500,000 Hours
Read/ Write life
3,000,000 Hours
Warranty
2 years
Source: TeamGroup