Transcend Information, Inc. (Transcend®), a worldwide leader in storage and multimedia products, is proud to introduce the JetFlash® 600, the newest member of its highly acclaimed USB flash drive family. The JetFlash 600 combines a lightweight, streamlined design and ample storage capacity, and features high-speed dual-channel technology for faster storing, transferring, and sharing of multimedia files.
Streamlined design. High read/write speed.
Thanks to its use of advanced dual-channel technology, the JetFlash 600 transfers data in the fast lane, featuring an ultra fast 200x read speeds of up to 32MB/sec and write speeds of up to 18 MB/sec. With true plug-and-play functionality, the JetFlash 600 can be quickly recognized and accessed by simply plugging it into the USB port of any computer. The drive's USB interface requires no other external power source or driver. Just plug it in and it is ready to use!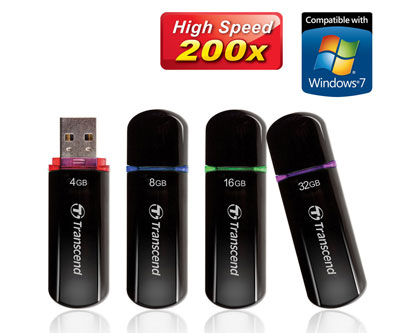 Drawing much of its design inspiration from aerodynamic automobiles, the streamlined case of the JetFlash 600 has a smooth gloss-black finish, along with a translucent color-band that lights up when the drive is accessed, making data transfer easy, straightforward and convenient. Available in capacities up to 32GB, the JetFlash 600 has copious amounts of storage space for users to easily store and carry personal files, music, digital photos, full-length HDTV movies, as well as important work or school documents.
Lifetime warranty. Portable personal assistant.
Transcend's JetFlash drives are well-known for their comprehensive lifetime warranty, and the JetFlash 600 is no exception. For added value, users can download and install Transcend's free JetFlash Elite data management tools onto the JetFlash 600 to enhance mobile productivity. The useful JetFlash Elite software can turn the flash drive into a key to automatically log on to website accounts, or even temporarily lock a computer to prevent unauthorized access. Users can also browse their favorite bookmarked websites and check their email from any compatible computer with the included Internet Favorites and Mobile Email functions.
The JetFlash 600 is fully compatible with Windows 7 and also supports Windows Vista/XP/2000/Me, Mac and Linux, allowing seamless data exchange between different operating systems. Offering premium features at an affordable price, the JetFlash 600 is currently available in four capacities: 4GB, 8GB, 16GB and 32GB.
Source: Transcend