Gateway launches two new notebook lines – the Gateway® UC Series and Gateway MD Series.Optimized for multimedia enthusiasts on a budget, the new 15.6-inch Gateway MD Series notebook line leverages the fashion-forward style and the capabilities of the popular Gateway MC Series to deliver cinematic mobile entertainment and mainstream performance. It is available now at leading retailers. Prices for the MD Series start at $649.99; Gateway offers this model in several configurations.
The new Gateway UC Series is the company's first notebook with a 13.3-inch widescreen display, an ideal size for those looking for maximum productivity in a highly portable, streamlined design. It is available now at leading retailers. Prices start at $749.99; Gateway offers several configurations.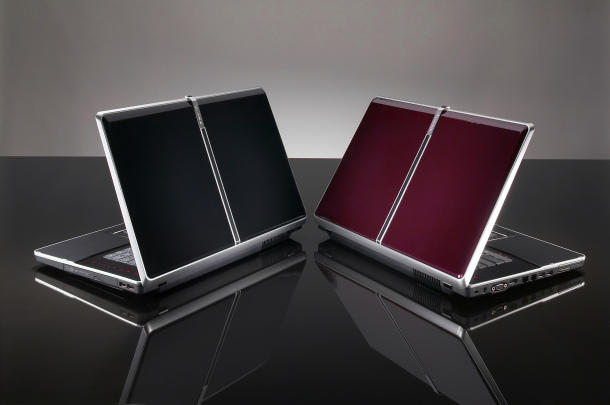 "These two new offerings are the result of Gateway's focus on the needs of distinct mobile customers," said Ray Sawall, senior product marketing manager for Acer America. "These notebooks are incredibly different in terms of style and form factor, yet they both include best-in-class technology at incredible values. The entertainment and multimedia capabilities of the MD Series and the all-around mobility of the UC Series make them perfect for today's savvy customers who know what they're looking for in a new notebook."
Gateway MD Series – Cinematic Multimedia on a Budget
Digital media enthusiasts will appreciate the entertainment-ready MD Series with a 16:9 aspect ratio and high-definition 15.6-inch widescreen display that vibrantly delivers a first-rate viewing experience. The high-resolution 1366×768 display makes movies and digital content appear crisp and clear. Sharing video and audio externally is easy with the HDMI v1.3 media connection; it lets consumers connect to a display device for enjoying high-definition video and audio through a single connection. In addition, the line has the option for dedicated ATI Mobility Radeon™ HD 3650 graphics with DirectX 10 support and 512MB Confirmed Dedicated Memory for enjoying cinematic playback of games, graphics and video with 3D visual effects.
In addition, the Gateway MD Series is ready for entertainment at any time and in a range of lighting conditions. Illuminated Multimedia Touch Controls give consumers quick, easy access to their digital media and frequently-used entertainment programs. The ambient light sensor adjusts the display brightness according to the external lighting, so customers always have an excellent viewing experience.

Additional popular technologies allow customers to stay connected and be productive while on the go. The integrated 1.3 megapixel webcam lets consumers take and send video emails, voice over IP and still photos as well as enjoy live videoconferencing. Consumers can connect via 802.11a/b/g Draft-N with expanded wireless features, and all models include Gigabit Ethernet for a fast wired connection.
The premium design of the new MD Series is as impressive as its capabilities. Available in two colors, burgundy and black, the new notebook line features a sculptured design that blends materials and edges for a cohesive look and feel marked by the cover's distinctive branding stripe flanked by silver accents. Both burgundy and black feature a textured palm rest and polished keyboard surround.
The MD Series notebook line was designed to support a range of technologies that will meet consumers' daily entertainment and productivity needs while fitting into many budgets. The MD Series platform will offer processor technology from both Intel and AMD, including Intel Core 2 Duo, AMD Athlon X2 and AMD Turion X2 processors. It can support up to 500GB of storage space and 4GB of DDR2 memory. Plus, the line was developed to support new technologies as they become more widespread, such as Blu-ray optical drives for enjoying the latest high-definition movies.
Gateway UC Series – Mobility and All-Purpose Performance
The new Gateway UC Series notebook line hits the sweet spot of mobile entertainment with an excellent pairing of a chic portable design, widescreen display and mainstream notebook performance. Gateway's first notebook PC with a 13.3-inch widescreen display, it sports a small footprint and lightweight 5.3-pound design that is idea for travel and taking to work and class. Consumers will get the latest in wireless technology for an enhanced wireless connection with Intel® WiFi 5100 Link (dual-band quad-mode 802.11a/b/g Draft-N) WiFi or Gateway 802.11 a/g Draft-N.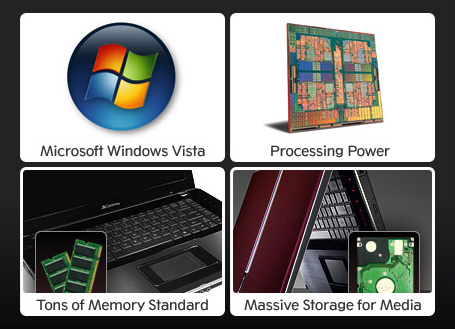 Performance-ready for the highly mobile consumer that needs to remain productive, the Gateway UC Series uses either Intel Centrino 2 or Intel Centrino Processor Technology, along with an Intel Core Duo, Intel Core 2 Duo or Intel Pentium processor. Customers can use the integrated 1.3 megapixel webcam to take and send video emails, voice over IP and still photos as well as enjoy live videoconferencing.
Entertainment on-the-go is fun and enjoyable thanks to the UC Series' many features. The touch sensitive media keys provide quick access to content, and a slot-load DVD+/- with LabelFlash technology makes saving, labeling and sharing content easy. Video and other applications look bright and crisp on the UC Series' 13.3-inch Ultrabright TFT LCD with a high 1280×800 resolution and Intel Graphics Media Accelerator 4500MHD. It also has an HDMI connector for sharing digital media.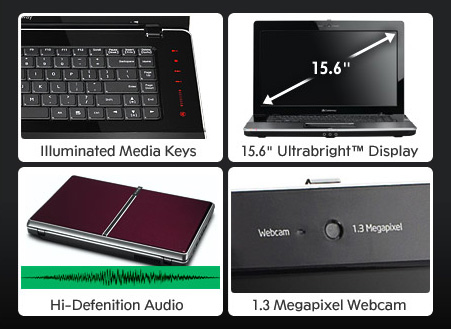 All of this innovation comes in a chic and elegant design featuring a glossy moonstone casing. Customers will enjoy the comfort of the black brushed aluminum keyboard surround and palm rest. Also, the UC Series has a round touchpad that is ideal for the way people navigate websites and programs today. Other features, such as the brushed aluminum barrel hinges, metallic trim and rounded edges and corners, show the attention to detail given to this fashionable new line.
Configurations, Price and Availability
The Gateway UC Series and MD Series are available now in several different configurations at leading retailers in the U.S. The MD Series starts at $649.99, and the UC Series starts at $749.99.
The Gateway MD7801u is equipped with Intel Centrino Processor Technology and comes with an Intel Core 2 Duo Processor T6400 (2.0GHz), 4GB of Dual Channel DDR2 667MHz Memory and Intel Graphics Media Accelerator 4500MHD. The huge 500GB(1) hard drive is ready for storing massive digital media and other files. The notebook comes with an 8X Multi-Format Dual Layer DVDRW w/ DVD-RAM featuring LabelFlash Technology(2) for labeling CDs and DVDs after content is saved to it. It comes with an 8-cell Lithium Ion battery and has a Manufacturer's Suggested Retail Price (MSRP) of $799.99. The Gateway MD7818u is also now available in the same SKU as the MD7801u, but comes in a burgundy chassis. It is also priced at $799.99.
The Gateway UC7807u comes with leading-edge technology including an Intel Core 2 Duo Processor T6400 (2.0GHz) with Intel Centrino Processor Technology, 3GB of DDR2 667MHz memory and Intel Graphics Media Accelerator 4500MHD. It is ready for storing and sharing digital media with a large 250GB(1) hard drive and a convenient slot-load 8x DVD Super-Multi Double Layer DVD-RW with DVD-RAM. It comes with a 6-cell Lithium Ion battery and has an MSRP of $799.99.
All models come with either the powerful Microsoft Windows Vista Home Premium 64-bit or 32-bit Edition with SP1. They also come loaded with Microsoft Works 9.0 as well as a 60-day trial of Microsoft Office Home & Student 2007.