Handheld Group announced the new fully rugged notebook entitled Algiz XRW, which comes equipped with a 10.1-inch widescreen that features MaxView Screen Technology which makes the screen readable in direct sunlight.
A powerful 2 GHz Intel Atom Processor is also equipped in the Algiz XRW Rugged Notebook, with a 64 GB Solid-State Drive and 2GB of DDR2 RAM Memory. The rugged notebook comes with Microsoft Windows 8 Ultimate Operating System.
The Algiz XRW is a lightweight notebook which comes with a range of great features and mobile capabilities. Bluetooth, WLAN and GPS combined with a built-in two megapixel autofocus camera are also equipped in the Algiz XRW.
The 57.6 Wh Battery offers up to eight hours of battery life on a single charge.
"The Algiz XRW represents a key milestone where we have broadened our product range and introduced an innovative and revolutionizing product for the world of rugged mobile solutions", said Jerker Hellstrom, CEO of Handheld Group. "Our new product fulfills all the market requirements: lightweight and mobile, long battery life, fast processing speed, best in class screen, and all features fully integrated and built rugged from the inside and out."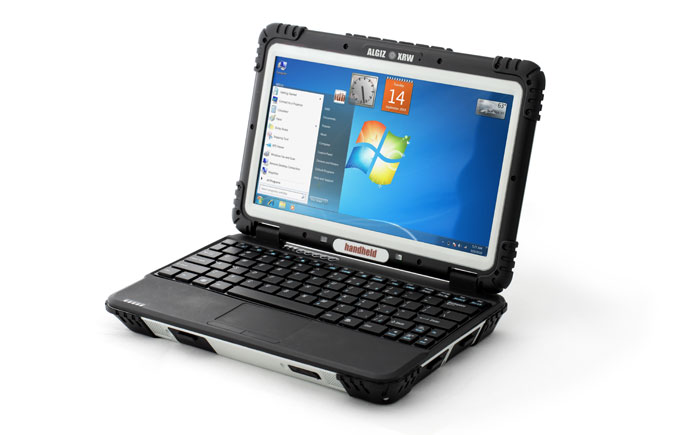 The Algiz XRW rugged notebook weights only 1.5 kilos. It can handle a 1.2 meter drop and temperatures from -21 °C to 70 °C. The keyboard and mouse-touchpad are fully sealed and illuminated by two red lights.
"At Handheld, our aim is always to offer the best rugged products at the right price. We believe that the modern design along with the key features of our slim Algiz XRW will contribute to customer effectiveness and efficiency all around the world," said Jerker Hellstrom.
The Algiz XRW Rugged Notebook will be introduced at trade shows around the world. Customer shipping will begin in December, 2010.