Why can't we all just get along!? Rivalry in the technology industry is certainly nothing new but now with the mobile market increasing as rapidly as it is there's undoubtedly nothing wrong with a little good old fashioned competition. Apple and Samsung have are just two such companies that seem to regularly battle it out in order to up each other in the tech department both fiercely challenging each other's devices which even sometimes ends up with the two tech giants in the courtroom.

Back in 2010 the opposition had become clear to the late Apple C.E.O. Steve Jobs when the new Samsung Galaxy S emerged into the market. The Galaxy S had striking similarities to that of the Apple iPhone some of which were clearly replicating already Apple patented features and technology. The Galaxy S included very familiar features such as the look of the on-screen icons as well as the shape and look of the phone itself. But in spite of these fairly obvious replications it was the fact the new handset also used the Pinch to Zoom and Rubber-Banding features that the iPhone already employed and which were patented by the company.



Of course Samsung were quick to deny any allegations from a clearly angry Steve Jobs and his team and there was plenty of back-and-forth litigation threatened from both parties due to it. In the following months and years the two companies were locked in legal battles, hearings, rulings and all sorts that ended up costing both of them more than a billion dollars. There's belief that this was Korean company Samsung's intention all along and they simply implement countersuits like this to hold up proceedings so they can continue selling and developing their products in the meantime.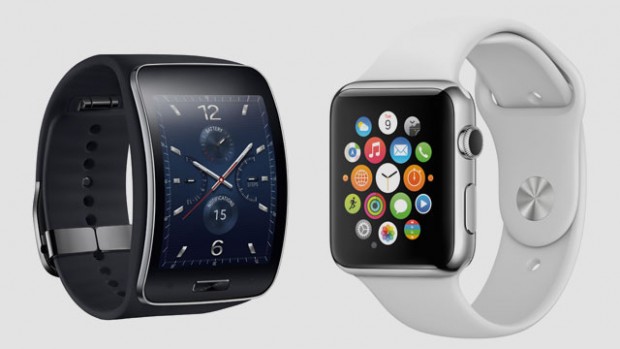 Here we are a few years later and the contest is still going strong between the two as we move into the age of the smartwatch and other wearable devices. Samsung were first over the line this time around when they first revealed their new Galaxy Gear smartwatch back in 2013 and since then it has evolved several times bringing us right up to date with their Gear Live, Gear Fit and Gear S options. Apple's own watch has been something the company have been teasing for a long time but which has finally now hit the shelves. It's been particularly interesting also for the mobile gaming market that are now looking to switch and redevelop their games for the new platform with the new exciting Smartwatch casino from Royal Vegas and the mind-boggling Sony smartwatch puzzle game just to name a few examples/. Thankfully however each of the watches appears to at least be trying its own thing and bringing its own style to the table but as they evolve will we see another case of imitation between the two?