Imation Corp.  announced U.S. availability of its much-anticipated Pro WX Wireless USB hard drive. Built on Imation's award-winning platform of external hard drive products, the Imation Pro WX drive is the world's first Wireless USB external hard drive. Offering the convenience of fast data transfer rates, speed and capacity required in today's graphics and data intensive environments, the Imation Pro WX hard drive provides 1.5TB of storage capacity for digitally driven users who crave the freedom of the wireless workspace. Imation will demonstrate the Imation Pro WX hard drive at the Pepcom Wine, Dine & Demo media event at the Hammerstein Ballroom at Manhattan Center Studios tonight from 6 to 9 p.m.
Imation's Pro WX Wireless USB hard drive provides a unique combination of speed, capacity and security in a convenient 3.5-inch form factor. With a fast Wireless USB data transfer rate of up to 15MBs/second, the product can back up a typical CD in under 50 seconds, and store up to 300,000 photos or 750 hours of video. Inherent in its Wireless USB technology, Pro WX wireless hard drive offers an innovative one-to-one connection that limits the possibility of signal interception and securely backs up data whenever it is in range up to 30 feet, similar to a direct attached storage device.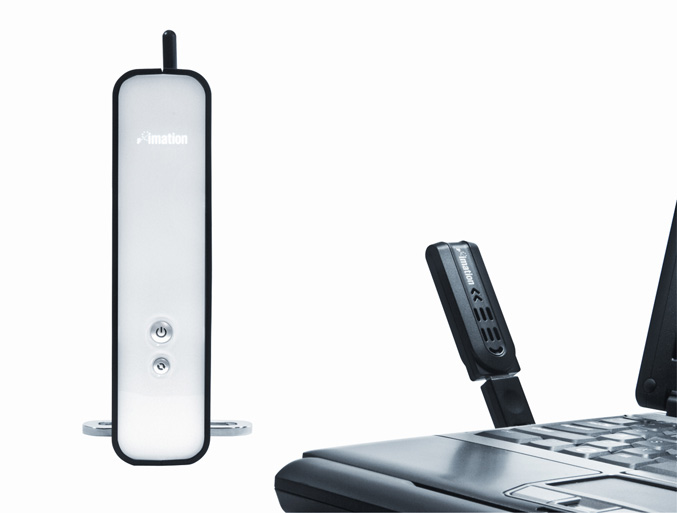 "Imation continues to be a world leader in delivering innovative storage products designed for our increasingly wireless world," said James Depuydt, director of technology, Imation. "We are now the first to provide users with a Wireless USB hard drive to continuously back up their most critical data in a unique product design. We will continue to expand our wireless storage capabilities to enable our customers to easily create, store, manage and share digital information."
The Imation Pro WX Wireless USB hard drive comes complete with an integrated stand for vertical or horizontal orientation; low capacity/data activity indicator lights for easy identification of data processes with built-in sleep mode for energy conservation; and one-touch, backup sync buttons for easy-to-use automatic backup of data, photos, music and videos. The product is compatible with both PC and Mac operating systems and doesn't require batteries.
"With the launch of the Pro WX, Imation delivers a differentiated approach to address the specific needs of those users who desire or need to connect, store and protect data using a plug-n-play wireless USB drive that provides a capable and secure alternative to cabled solutions," said Liz Conner, research analyst, IDC.
Imation also announced today its next-generation SSD Upgrade Kit, which will debut at Wine, Dine & Demo, alongside the company's unique PowerPoint® Karaoke competition.
Pricing and Availability
The Imation Pro WX wireless USB hard drive is currently available for an MSRP of $449.99 through authorized Imation distributors, wholesalers, resellers and e-tailers in the United States. For additional information on Imation's complete family of wireless storage products, visit www.imation.com.
Source: Imation