Intel Corporation today previewed a new Intel® Xeon® processor codenamed "Nehalem-EX." The processor will be at the heart of the next generation of intelligent and expandable high-end Intel server platforms, which will deliver a number of new technical advancements and boost enterprise computing performance.
In production later this year, the Nehalem-EX processor will feature up to eight cores inside a single chip supporting 16 threads and 24MB of cache. Its performance increase will be dramatic, posting the highest-ever jump from a previous generation processor.1
Nehalem-EX will add new reliability, availability and serviceability (RAS) features traditionally found in the company's Intel® Itanium processor family, such as Machine Check Architecture (MCA) Recovery. Together with new levels of performance, both high-end processors should speed the move away from more expensive, proprietary RISC-processor based systems.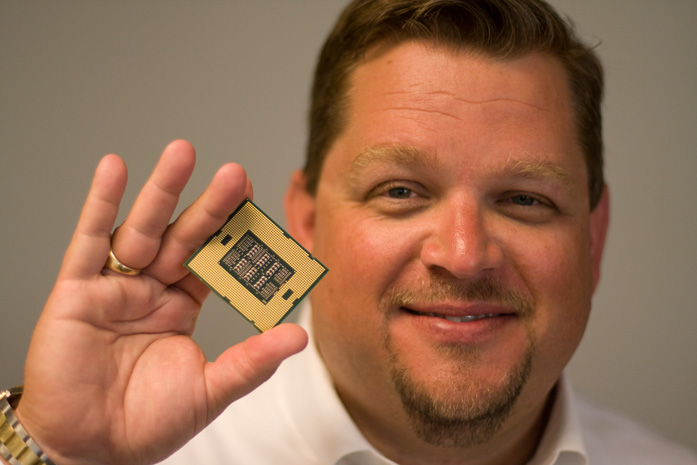 Ideal for server consolidation, virtualized applications, data demanding enterprise applications and technical computing environments, Nehalem-EX will offer up to nine times the memory bandwidth1 of the previous-generation Intel Xeon 7400 platform. Nehalem-EX will also double the memory capacity with up to 16 memory slots per processor socket, and offer four high-bandwidth QuickPath Interconnect links. Nehalem-EX will provide tremendous scalability, from large-memory two-socket systems through eight-socket systems capable of processing 128 threads simultaneously without the need for third-party chips to "glue" the platform together. Additional scalability options including greater sockets counts will be possible with third-party solutions.
Intel delivers the most complete server portfolio: The Xeon 5500 series delivers leading performance, energy efficiency and flexibility for infrastructure applications. ++Nehalem-EX will greatly improve on today's Intel Xeon 7400 scalable performance, flexibility and advanced RAS features for data demanding enterprise applications and server consolidation. Itanium delivers the highest scalability and most advanced RAS features for the most demanding environments.
The Nehalem-EX Advantage
* Intel Nehalem Architecture built on Intel's unique 45nm high-k metal gate technology process
* Up to 8 cores per processor
* Up to 16 threads per processor with Intel® Hyper-threading
* Scalability up to eight sockets via Quick Path Interconnects and greater with third-party node controllers
* QuickPath Architecture with four high-bandwidth links
* 24MB of shared cache
* Integrated memory controllers
* Intel Turbo Boost Technology
* Intel scalable memory buffer and scalable memory interconnects
* Up to 9x the memory bandwidth of previous generation
* Support for up to 16 memory slots per processor socket
* Advanced RAS capabilities including MCA Recovery
* 2.3 billion transistors
From RISC to Reward: Customers Migrating to Xeon- and Itanium-based platforms
With new RAS capabilities for high-end enterprises, Nehalem-EX can accelerate IT adoption of Intel-based platforms over RISC-based platforms by delivering a lower total cost of ownership, higher performance, lower electricity bills and the ability to standardize on a flexible IT environment. The Intel Itanium processor delivers mainframe-class reliability for mission-critical workloads and enables the greatest scalability, especially for highly threaded workloads. Itanium offers greater than eight-socket system configurations and is ideal for applications that access the largest memory pools.
Availability
Nehalem-EX is scheduled for production in the second half of 2009.
Source: Intel