Ladies and Gentlemen, now you could jailbreaking your iOS device with ease, using just Safari browser and JailbreakMe.com site. The iPhone Dev Team,  guys who make possible the first iPhone easy hack, just by visiting a website, has now released a brand new jailbreak for all your iDevices.
The hack using a loophole in Adobe's PDF format and all you need to do is visit JailbreakMe.com, using your iPhone 4 or other Apple iDevice and follow the on-screen instructions to jailbreak the device, which seems to work on pretty much every device running iOS,  including iPad.  Right now the site is overloaded so be patient, you can try also www.jailbreakme.modmyi.com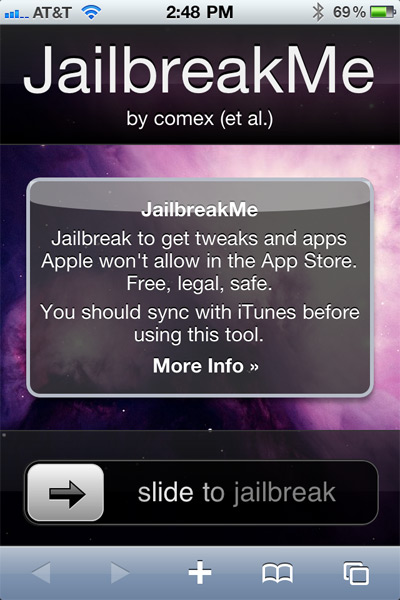 Note: Apple said that jailbraking "can violate the warranty and can cause the iPhone to become unstable and not work reliably",  so do it at your own risk!
List of compatible devices:
iPod 1G on 3.1.2
iPod 1G on 3.1.3
iPod 2G on 3.1.2
iPod 2G on 3.1.3
iPod 2G on 4.0
iPod 3G on 3.1.2
iPod 3G on 3.1.3
iPod 3G on 4.0
iPad on 3.2
iPad on 3.2.1
iPhone 3G on 3.1.2
iPhone 3G on 3.1.3
iPhone 3G on 4.0
iPhone 3G on 4.0.1
iPhone 3G[S] on 3.1.2
iPhone 3G[S] on 3.1.3
iPhone 3G[S] on 4.0
iPhone 3G[S] on 4.0.1
iPhone 4 on 4.0
iPhone 4 on 4.0.1
Source: App Advice