LG Display Co., Ltd. , a leading innovator of thin-film transistor liquid crystal display (TFT-LCD) technology, announced it has developed the world's largest flexible e-paper.
The 19-inch wide (250x400mm) flexible e-paper is almost as big as a page of A3 sized newspaper. Approximately eight times larger than e-books of 6-inch class, the product is optimized for an e-newspaper and able to convey the feeling of reading an actual newspaper. Additionally, as the product measures 0.3 millimeters thin, the e-paper weighs just 130 grams despite its 19-inch size.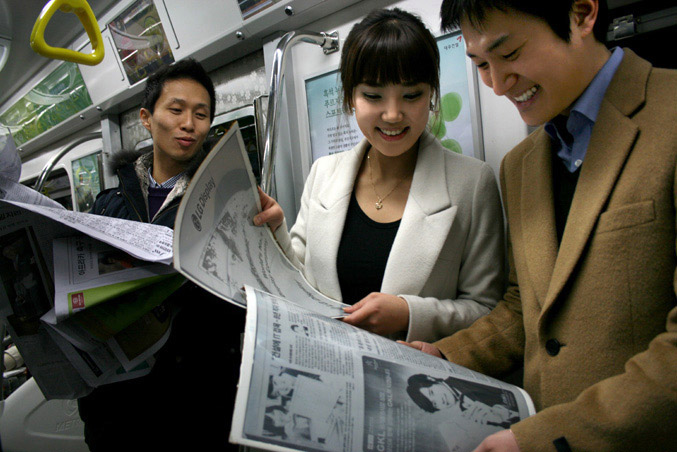 LG Display arranged TFT on metal foil rather than glass substrate, allowing the e-paper display to recover its original shape after being bent. The use of a metal foil substrate makes the e-paper both flexible and durable while maintaining excellent display qualities. In particular, LG Display applied 'GIP (Gate-in-Panel)' technology which integrates the gate driver IC onto the panel. This improves its flexibility by removing driver-ICs which are attached to the side of panel and hinder the bending of the display.
E-paper is being hailed as a promising new form of public display for offering various advantages compared to conventional LCD or PDP displays. E-paper faces fewer spatial constraints because of its ultra-thin and lightweight form, and reduced maintenance costs due to significantly lower power consumption. Furthermore, the product's flexibility and bendiness enable a wider choice of applications like advertising signs as it can be easily wrapped around pillars and other locations.
CTO and Executive Vice President of LG Display, Dr. In Jae Chung said, "Our development of the world's largest flexible display has opened up a new market in the next-generation display sector of e-paper. As the e-paper market is growing at a rapid pace, LG Display will continue to deliver new value to customers and the market through industry-leading technologies and differentiated products."
Meanwhile LG Display plans to launch mass production of an 11.5-inch flexible e-paper display in the first half of 2010. According to market researcher DisplaySearch, the e-book market will grow from approximately USD370 million in 2009 to USD1.2 billion in 2011 and to USD1.73 billion in 2015.
Source: LG