Kingston Digital, Inc., the Flash memory affiliate of Kingston Technology Company, Inc., the independent world leader in memory products, today announced the release of the MobileLiteG2 card reader. The MobileLiteG2 is the second generation of the popular MobileLite Flash card reader, which allows easy data transfer between Flash memory cards and PC or Mac. Supported card formats include SD, SDHC, microSD, microSDHC, Memory Stick® PRO Duo™, Memory Stick® PRO-HG Duo™ and Memory Stick® Micro™ (M2).
"The MobileLiteG2 is a small, portable reader that makes managing content quick and convenient between a device like a mobile phone, digital camera or MP3 player, and a host device with a USB connection such as a PC," said Wendy Lecot, Flash card business manager, Kingston. "For consumers and business users, the compact size and simple plug-and-play ability makes it an essential part of one's mobile gear."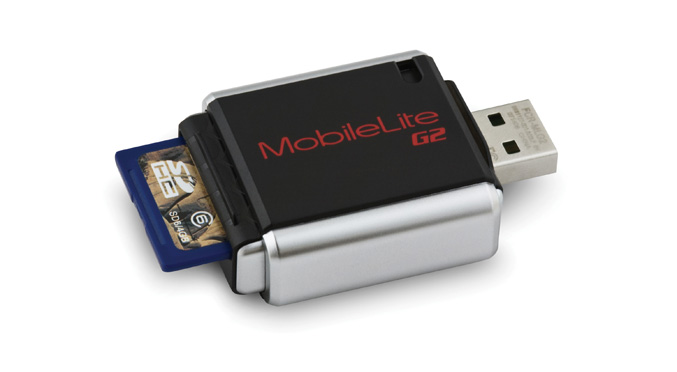 The MobileLiteG2 has retractable covers on each side to protect the USB connector and the Flash memory cards from damage. It ships with a lanyard and short USB extension cable to make it easier to use with harder-to-reach USB slots. When in use, the MobileLiteG2 appears as two drive letters (e.g. E:\, F:\). Data transfer between cards or host device is as simple as drag and drop.
The MobileLiteG2 ships as a stand-alone reader and is also available as a bundle with a 4GB or 8GB Class 4 SDHC card. The MobileLiteG2 is backed by a two-year warranty while Kingston® cards carry a lifetime warranty. For more information, visit www.kingston.com.
MobileLiteG2 Features and Specifications:
Compliant: with the USB 2.0 specification, SD 2.00, SDHC 4.1 standard, new *MS PRO-HG Duo™ standard
Versatile: multi-functional USB card reader supports SD/SDHC, microSD/SDHC, *MSPD™, *MS PRO-HG Duo™ and *M2
Portable: easily fits into your pocket
Easy: plug and play into any USB 2.0 or 1.1 port
Dimensions: 2.45″ x 1.16″ x 0.646″ (62.15mm x 29.40mm x 16.40mm)
Weight: 18.90g
Operating Temperature: -40°F to 140°F (-40°C to 60°C)
Storage Temperature: -4°F to 158°F (-20°C to 70°C)
Guaranteed: two-year warranty
Compatibility Table
| | |
| --- | --- |
| Operating System | File Transfer |
| Windows 7 | Yes |
| Windows Vista®s (SP1, SP2) | Yes |
| Windows XP (SP1, SP2, SP3) | Yes |
| Windows 2000 (SP4) | Yes |
| Mac OS X v.10.3.x+ | Yes |
| Linux v.2.6.x + | Yes |
Kingston MobileLiteG2
Part Number
Capacity and Features
MSRP (U.S. only).
FCR-MLG2
MobileLiteG2 Flash Card Reader
$ 11.00
FCR-MLG2+SD4/4GB
MobileLiteG2 + 4GB Class 4 SDHC
$ 28.50
FCR-MLG2+SD4/8GB
MobileLiteG2 + 8GB Class 4 SDHC
$ 46.00

Source: Kingston